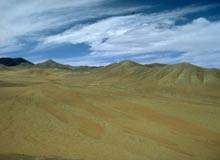 BHP Billiton's wholly owned Cerro Colorado copper mine lies within the Atacama Desert at an altitude of 2,600m east of Iquique, Chile.
The mine is a significant producer of copper cathode for BHP, although production levels have declined in recent years as grades have declined.
An earthquake in 2005 also caused significant production shortfalls. Production in FY2008 was 106,400t of copper cathode, compared with 105,800t the previous year.
"BHP Billiton's wholly owned Cerro Colorado copper mine lies within the Atacama Desert."
Normal production was adversely affected by the high clay content of the ores currently being mined. BHP envisages production continuing until 2016, although an evaluation of hypogene mineralisation now in progress may see the mine extended further.
The cost and availability of power has affected the operations of Cerro Colorado and other mines in the area. To address the problem, BHP has started construction of an LNG facility to supply gas to the northern grid system, which is scheduled for completion in 2010. BHP has also signed off-take agreements underwriting the construction of a 460MW coal-fired power station, due for completion in 2011. It is hoped that these initiatives will result in a measurable reduction in costs.
Availability of water is another problem. This is being addressed through various means including programmes for better water efficiency. A recently built desalination plant, which supplies water to the sulphide leach plant, offers the potential for further expansion, BHP says.
Seismic activity is an ongoing concern at Cerro Colorado. Production at the mine was temporarily suspended in June 2005 following an earthquake, taking eight months to return to normal production.
BHP's environmental performance was called into question in 2007 when it received a $90,000 fine from COREMA for breaching environmental permits.
Geology and reserves
Cerro Colorado lies within the oxidised and enriched portion of a porphyry copper deposit, with ore processed by leaching and SX-EW. Changes compared to 2007 include depletion of production adjusted for reconciliation difference partially offset by the results of in-fill drilling that provided additional resource and improved confidence.
As of 2008, Cerro Colorado had indicated oxide resources of 67mt and 26mt of sulphide. Proven ore reserves were reported for the same period at 47mt oxide and 28mt sulphur.
"The Cerro Colorado mine is a significant producer of copper cathode for BHP."
Cerro Colorado mining
The Cerro Colorado mine is accessible by public road. Copper cathode production is trucked to the port at Iquique, which is privately operated. BHP is the owner and operator of the mine and holds a mining concession from the Chilean state that remains valid indefinitely (subject to payment of annual fees).
Cerro Colorado's facilities for this process include two primary, secondary and tertiary crushers, leaching pads and solvent extraction and electrowinning plants. Electricity is supplied under long-term contracts to the facilities through the northern Chile power grid.
Production
Commercial production at Cerro Colorado started mid-1994, with expansion following in 1995 and 1998 to grow the mine's crushing capacity, leach pad area and mine fleet.
Following these expansions, production at the mine was increased to 100,000t annually. Production was subsequently increased to the nameplate capacity of 120,000t a year with optimisation and efficiency improvements.
Due to lower copper grades of the ore the production is now approximately 106,000t per annum.