Equinox Gold is re-developing the Castle Mountain open-pit heap leach mine located in San Bernardino County, California, US. Image courtesy of Equinox Gold Corp.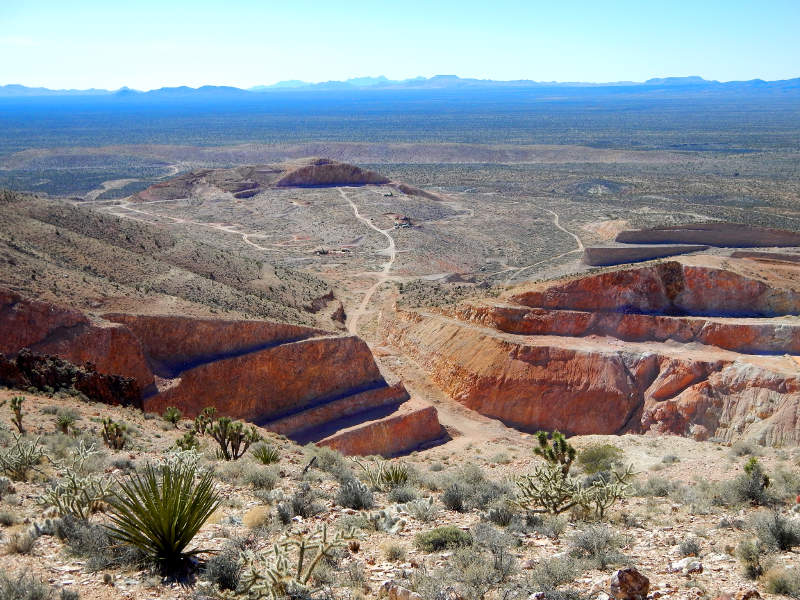 The historic mine is expected to produce 2.8Moz of gold in 16 years. Image courtesy of Equinox Gold Corp.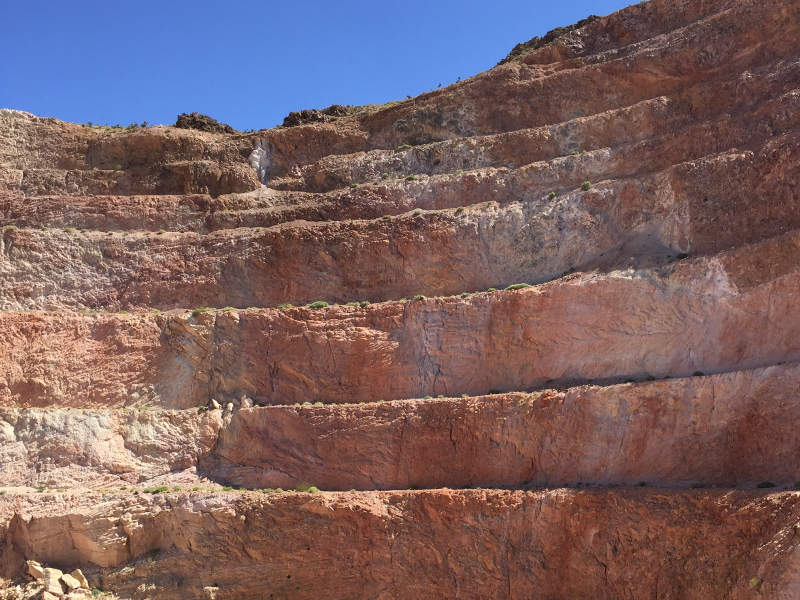 Gold mineralisation at Castle Mountain is mostly hosted in fine-grained native (free) gold and electrum. Image courtesy of Equinox Gold Corp.
The Castle Mountain gold mine is an open-pit mine being developed in San Bernardino County, California, US. Equinox Gold, the project developer, completed the pre-feasibility study (PFS) for the two-phased low-cost mining project in July 2018.
Construction of the first phase is expected to start in mid-2019, with ore stacking and commissioning expected by the end of 2019.
The first phase of development is expected to run for three years and is forecasted to produce an average of 45,000oz of gold a year. The second phase, from years four to 16, is anticipated to produce an annual average of 203,000oz of gold.
The project is estimated to produce 2.8Moz of gold over its initial mine life of 16 years. It is expected to create up to 600 jobs during both construction and operations.
Castle Mountain gold mine location, geology and mineralisation
The historical Castle Mountain open-pit gold mine is located approximately 120km south of Las Vegas. It produced more than 1Moz of gold from 1992 to 2004. Equinox halted the mining operations at the project in 2004 due to low gold prices. 
"The historical Castle Mountain open-pit gold mine is located approximately 120km south of Las Vegas."
The project hosts a disseminated low-sulphidation epithermal system, which is identical to other epithermal systems of the Great Basin in Nevada. Gold is mostly found in late-stage rhyolite volcanic units within zones of silicification and brecciation associated with northeast-southwest trending/southeast dipping fault structures.
Most of the mineralisation occurs as very fine-grained native (free) gold and electrum, disseminated in quartz-stockwork veins and microfractures within strongly silicified and brecciated rhyolite flows, domes and associated sediments.
Gold mineralisation is believed to have centred along the main northeast-trending structural corridor and is classified as Leslie Ann, Jumbo South, Jumbo, Hart Tunnel, and Oro Belle deposits.
Castle Mountain gold mine reserves
The proven and probable ore reserves at Castle Mountain mine are estimated to be 197.6Mt of ore, containing 3.6Moz of graded at 0.56g/t Au. 
Mining and ore processing at Castle Mountain
Conventional open-pit methods of mining will be applied at the gold mine. The stockpiled low-grade material mined from the Oro Belle and Jumbo pits from previous operations will serve as the initial feed for the project, while the feed for the second phase will be sourced from the Main Trend and South Domes pits.
The mining plan envisages contract mining operations during the first four years, while pre-stripping and grade control operations will be primarily undertaken using the company's own mining fleet.
In the first phase, ore will be placed on the heap leach pad in 15m lifts at a rate of 12,700 tonnes per day (tpd) and leached. The resultant solution will be operated in a new adsorption, desorption and refining plant (ADR), which is capable of treating 400m³/h of pregnant solution to produce doré bars.
Under the second phase, the solution handling unit and the ADR plant capacity will be expanded to receive the additional flow from the increased ROM heap leaching operations and loaded carbon from the carbon-in-leach (CIL) plant. The renewed plant is anticipated to treat 1,900m³ of ore an hour to produce doré bars.
The CIL circuit will feature a three-stage crushing circuit, ball mill, a gravity circuit, a leaching circuit, and an Acacia high-intensity leach circuit, in addition to cyanide destruction and mill fines filtration circuits.
Loaded carbon from the CIL circuit will be treated in ROM desorption and recovery circuits. 
Infrastructure facilities at Castle Mountain
On-site propane generators will supply the power required for the first phase operations, while that for the second phase operations will be sourced from a substation located near the town of Searchlight, Nevada, through a proposed 69kV powerline.
Water required for the first phase of operations will be collected from existing wells at the project site. Equinox proposes to collect water for phase two operations from the existing water wells and from additional water sources nearby.
The project is accessible year-round by paved highways and well-maintained gravel roads.
Contractors involved
Kappes Cassiday & Associates consolidated the PFS of the Castle Mountain gold project.
Mine Technical Services prepared the mineral resource estimates for the project as part of the PFS, while Global Resource Engineering prepared the mineral reserves, mine plan and mining sections.
Call & Nicholas prepared the mine geotechnical section, while Lilburn Corporation drafted the environmental matters as part of the PFS. Geo-Logic Associates prepared the heap leach pad and hydrogeology aspects of the study.