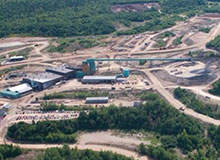 Trevali Mining Corporation (Trevali) wholly owns the historical Caribou underground zinc-lead-silver-copper-gold project in New Brunswick, Canada.
Portal construction at the underground mine, which was placed under care in 2008, started in early November 2014 and mining recommenced in March 2015. Production is expected to start in the second quarter of 2015 and is anticipated to last for 6.3 years.
The project includes the installation of a new 3,000 tonnes per day (tpd) semi-autogenous grinding (SAG) mill, a new copper separation circuit and a transformer adjacent to the concentrator, and the expansion of the existing concentrate storage building.
The annual average production of the mine is expected to be 93 million pounds (Mlb) of zinc, 32.5Mlb of lead, 3.1Mlb of copper, 730,000oz of silver and 1,500oz of gold. The project is expected to create 300 permanent full-time positions.
Geology and mineralisation at Caribou mine
---
Related content
---
Halfmile Mine is an underground polymetallic mine located in northern New Brunswick, Canada.
---
Caribou is a volcanic sediment-hosted sulphide deposit situated in the northern part of the Bathurst Mining Camp, which falls within the Miramichi Highlands region of northern New Brunswick.
The steeply dipping polymetallic deposit forms part of a synformal structure plunging to the north. The host felsic volcanic and sedimentary rocks belong to the Spruce Lake Formation that makes a section of the California Lake Group.
Mineralisation at Caribou is composed of seven lenses, starting from a copper-rich vent-proximal facies near the bottom and western part of each lens, to a lead-zinc-rich vent-distal facies near the top and eastern part of each lens.
The zones contain 90% sulphides of mainly pyrite, sphalerite, galena and chalcopyrite. Magnetite, siderite, stilpnomelane, quartz and chlorite are the major gangue minerals found in the zones.
Caribou mine reserves
As of May 2014, the Caribou mine was estimated to contain measured and indicated resources of 7.23 million tonnes (Mt) grading at 7% zinc, 2.9% lead, 0.43% of copper, 0.89g/t gold and 84g/t silver.
Mining and processing methods at the underground mine
A modified AVOCA method of mining, along with long hole retreat for partial sill pillar recovery, is being used at Caribou. The mining plan is to recover 87% of tonnes using the modified AVOCA stoping method and the remaining 13% by using long hole retreat using up holes with no backfill.
"Caribou mine was estimated to contain measured and indicated resources of 7.23Mt grading at 7% zinc, 2.9% lead, 0.43% of copper, 0.89g/t gold and 84g/t silver."
The underground mine will be accessed through a dual ramp system, connecting the existing portals in the upper 100m of the mine and a single ramp system below. Plant feed will be hauled to surface by 45t capacity trucks loaded by load-haul-dump vehicles (LHDs).
Ore material from the underground mine will be crushed on surface and stockpiled before grinding in a SAG mill, two ball mills and three M1000 IsaMills. Ground material will be passed through the flotation circuits, resulting in the production of zinc and lead concentrates.
In addition to the existing lead and zinc circuits, the processing plant will be equipped with a new copper circuit to extract copper during the life of the mine. Copper is expected to be removed from the mill feed in-between the lead separation stage and the zinc separation stage.
The resulting copper concentrate is estimated to contain high levels of gold and silver. It will be stored in a concentrate building before being transported to the Port of Belledune by trucks.
Sale of concentrates from Caribou mine
The zinc, lead and copper concentrates produced at Caribou mine will be sold to Glencore Xstrata under off-take agreements.
Caribou infrastructure facilities
"The copper concentrate is estimated to contain high levels of gold and silver."
Caribou's power supply is provided by NB Power under a long-term contract. The supplied voltage is converted to 4,160V through a 10MVA fan-cooled transformer, owned by Trevali.
The mine's water treatment plant is located 200m south-east of the milling complex and is designed to treat a maximum of 180m³ an hour.
Contractors involved with the project
Alex Macintyre & Associates was awarded the underground mine development and mining contract for the Caribou project. CSI Mining & Equipment was engaged to carry out dewatering works of the underground mine.
SRK Consulting prepared the resource estimate and preliminary economic assessment (PEA) report for the project while Holland and Holland Consultants and Stantec Consulting participated in the preparation of the PEA.
DRA Americas, a metallurgy and plant operations group based in South Africa, was engaged to provide additional expert support to the Caribou team.