The processing plant at Rio Tinto's Brockman 4 site in Western Australia.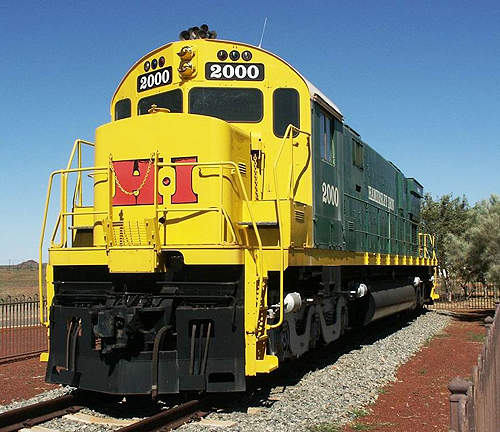 Heavy haul rail carries pig iron from the processing plant to Dampier Port for export.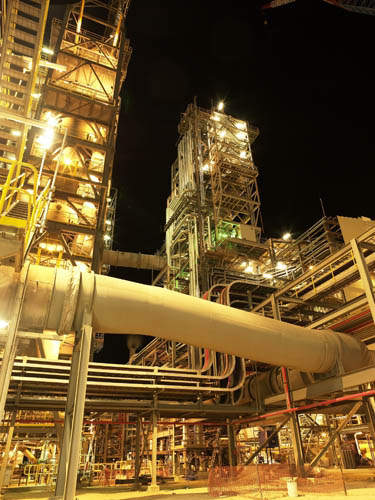 Night view of the HIsmelt plant.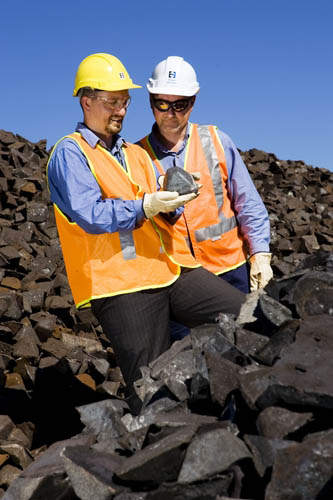 Brockman 4 employees examine the pig iron stockpiled at the processing plant.
The Brockman 4 iron ore mine is situated 60km north-west of Tom Price in the province of Pilbara, Australia. It covers an 80,000km² area.
Rio Tinto is the owner and operator of the mine. Its development was completed in September 2010 at a cost of $1.5bn.
Reserves and geology
The Brockman 4 comprises 600 million tonnes of ore containing more than 60% iron and 450mt of lower grade ore with 50% to 60% iron.
The Brockman 4 site is located in the Hamersley Group that has been identified to be of Archaean and Proterozoic ages. The minerals were formed after volcanic eruption resulted in the formation of basalt rocks in the area. Sedimentary rocks such as sandstones were also hosted in the site when the Hamersley Group was formed.
"Rio Tinto is the owner and operator of the Brockman 4 mine."
Iron deposits at the mine contain four layers: Yandicoogina Shale, Joffre, Whaleback Shale and Dales Gorge. The ore is hosted in the Dales Gorge and Joffre layers with high grade haematite and low volumes of goethite.
The Brockman 4 deposits differ based on various degrees of dehydration of goethite to microplaty haematite.
Bluish grey colour deposits have the highest degree of dehydration and grey-yellow-brown deposits have large quantities of goethite and less dehydration.
Mineralisation
The mineralisation contains a large volume of steeply dipping Banded Iron Formations (BIF) deformed due to geological processes and scoured by weathering. The BIF comprises haematite and goethite pieces with high graded iron ore deposits and low graded silica, phosphorus, carbonate and chert contaminants.
Production at Brockman 4
The Brockman 4 mine is designed to produce 22mtpa, with an operational lifespan of 20 years. A total of $1.24bn was apportioned by Rio Tinto in December 2010 to expand Brockman 4 and develop Western Turner Syncline iron ore project.
The expansion will increase the production capacity of Rio Tinto in Pilbara region from 220mtpa to 283mtpa by 2013. The production rate in Pilbara is expected to rise to 330mtpa by 2015.
Open-pit mining
The iron ore deposits are being extracted using traditional open-pit excavation techniques including drilling, blasting, loading and hauling.
Drilling in selected areas was carried out by two Cubex QXR 1120 and three Reedrill Drill SKSS-16 blasthole drill rigs. Explosives such as ammonium nitrate or fuel oil were fitted in the drill holes and blasted. The blast creates a decent size pit required for digging.
"The Brockman 4 mine comprises 600 million tonnes of ore."
The pre-mining construction of infrastructure took place at the mine between January 2008 and January 2010. Mining excavators and shovels were deployed at the site in 2009.
Three X5500-6 Hitachi Shovel, two Le Tourneau L1850 wheel loaders and one EX3600-6 Hitachi Excavator are used in the digging process.
Ore processing
The lump ore and sinter fine products extracted from the Brockman 4 are transported to the processing plant through 16 Komatsu 830E-AC and two Komatsu 730E haul trucks. The plant boasts a primary jar crusher, two secondary cone crushers, a six bin screening building and gravity separation system. Processing can be either wet or dry.
The plant cuts ore into small particles and produces high graded haematite and magnetite materials. The haematite is segregated from magnetite through a gravity separation system. It will be further processed to extract top quality iron ore pallets.
The iron ore pallets are transferred for smelting to extract pure iron or pig iron. The Brockman 4 implements an advance process known as HIsmelt rather than conventional blast furnace and produces pig iron without slag, which will be stored in a 12mt storage facility.
Transport and handling
The pig iron stockpiled at the storage facility is loaded onto heavy haul railway through a slewing bucket wheel and transported to the Dampier port terminal passing via the Hamersley & Robe River railway.
Dampier Port has a ship-loading facility for exporting pure iron to steel makers in Eastern Asia and Europe.
Expansion of Brockman 4
The expansion of Brockman 4 will be carried out in two phases. On completion of expansion, it will be the second largest mine in the Pilbara region.
"The expansion of Brockman 4 will be carried out in two phases."
The first phase of expansion is expected to achieve its intended production rate of 22mtpa in 2011.
The second phase will increase the production capacity from 22mtpa to 40mtpa in 2012. Work on the phase 2 expansion will include village expansion, deployment of additional mine fleet and construction of a primary crusher and overland conveyor spanning up to 4km.
The Boolgeeda airfield is being built by Rio Tinto to fly directly from Perth to Brockman 4 site. Designed to conciliate Boeing 737 aircraft, the airstrip is scheduled to be operational in 2012.