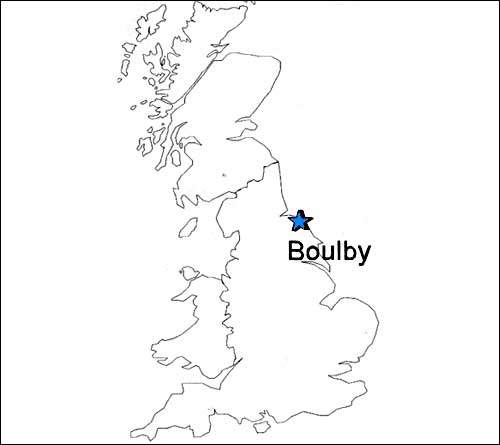 The Boulby mine, located in north-east England, is one of the world's major potash producers.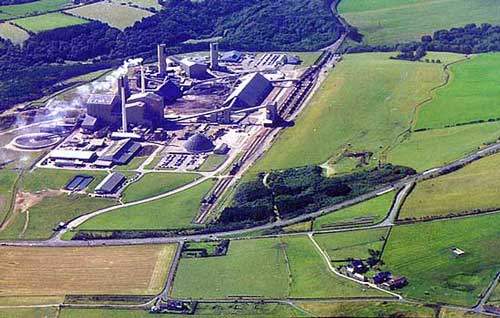 The design of the surface facilities was carried out by the architect, Sir Frederick Gibberd.
A cross-section through the deposit and overlying strata, showing the aquifers above the potash horizon and the special shaft construction needed.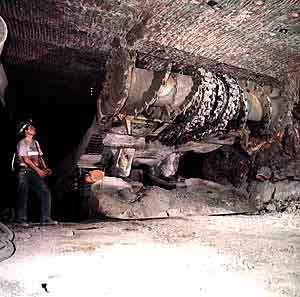 One of the continuous miners underground at Boulby.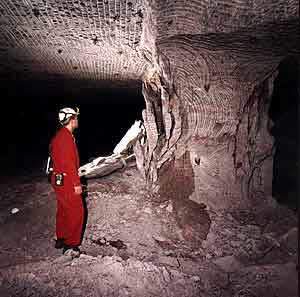 Stress-relief mining techniques have helped CPL to produce potash from greater depths.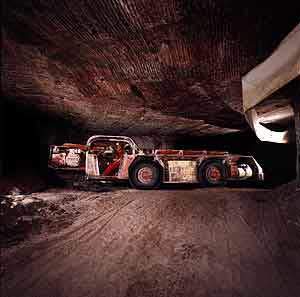 Joy shuttle cars are used to move the run-of-mine potash from the continuous miners to the main conveyors.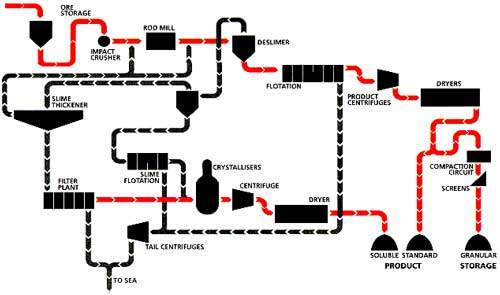 A simplified version of the potash production flowsheet.
In the 1960s, with fertiliser demand growing and the UK reliant on imported potash, ICI decided to develop reserves 40km from its Cleveland facilities in north-east England. The 200ha mine site is at Boulby, half-way between the Tees estuary and the port of Whitby.
The design capacity is now over 1.0Mt/y of potassium chloride (KCl) product, sufficient to maintain a 55% UK market share and substantial export sales. Potash extraction requires the co-production of salt. Construction started in 1969 and the first product was delivered in 1973. To ship the potash, a new ship/road/rail terminal was constructed at Teesdock.
ICI formed Cleveland Potash Ltd (CPL) in joint venture with the Anglo American group but subsequently sold its stake to Anglo American. In 2002 the "non-core" business was sold to ICL Fertilizers, a division of Israel Chemicals Ltd.
CPL, which employs 828 people, is now integrated with Iberpotash in Spain and other regional subsidiaries into ICL Fertilizers Europe, which handles marketing and distribution of the products. Dead Sea Works recovers potash products in Israel.
GEOLOGY AND RESERVES
Boulby potash occurs at depths between 1,200 and 1,500m in a seam ranging from 0–20m but averaging 7m in thickness. Within a permian evaporite sequence, sylvinite ore comprises 35–45% sylvite (potash) and 45–55% halite (salt), plus impurities. The sedimentary strata above the evaporites include the triassic Sherwood sandstone, which contains brine under high pressure.
This situation restricted exploration drilling from surface and, together with the depth involved, prevented underground exploration and trial mining. Consequently, planners were aware of the high stresses to be dealt with but not the full extent of faulting or the presence of pressurised gas in shaly parts of the potash, sufficient to cause blow-outs during extraction. However, the geology provides excellent conditions for the Institute of Underground Sciences to undertake 'dark-matter' experiments.
MINING
Sinking the 5.5m-diameter, 1,150m-deep shafts through the sandstone was achieved by ground freezing and grouting of the rock shaft. Although the basic concept of roadway development in salt to access room-and-pillar potash panels was sound, determining the most efficient mining system proved difficult and it was not until 1984 that CPL reduced mining costs sufficiently to achieve profitability.
By the mid-1990s, output had stabilised at 16,000t/d – 2.8Mt/y from six production sections.
"The geology provides excellent conditions for the Institute of Underground Sciences to undertake 'dark-matter' experiments."
To cope with greater stresses in the ore below 1,200m and to raise output above 3Mt/y by 2001, CPL converted its continuous miners to remote-controlled operation (so they can be safely used in shaly sections without prior blasting).
The mine has a mine-wide digital micro-seismic monitoring system and has devised a two-road with stubs (rather than four-road) stress-relieving room-and-pillar technique which achieves more mining per shift. Jeffrey and Joy continuous miners discharge to Joy electric shuttle cars, which run to feeder breakers on the main conveyors to the hoisting shaft.
ORE PROCESSING
CPL's refinery separates KCl from the salt in the sylvinite ore and recovers three potash product grades. Following impact crushing and rod milling, de-sliming units feed underflow for salt and impurity removal by flotation while the overflow is classified and treated by filtration or slime flotation. The de-watered and screened flotation product is standard fertiliser-grade potash, some of which is converted to granular grade by a compaction circuit.
The potash recovered by filtration and slime flotation is directed to crystallisers, which normally yield a soluble potash product. Assisted by EU funding, CPL developed a system for pumping tailings / seawater slurry into worked-out areas up to 1km from the core operation. This backfilling operation started in May 2003.
The fertiliser grades are sold for either direct application or complex fertiliser manufacture, soluble potash for industrial applications, and salt primarily for road de-icing.
PRODUCTION
Potash production rates are related to demand projections whilst salt output is roughly determined by the development required to achieve the potash target. Since 1994, potash output has varied between 800,000t and 1.03Mt/y, with salt production ranging from 384,000t to 662,000t. ICL indicated that CPL maintained production during 2005 at over 1Mt/y of potash and over 500,000t of salt.