Location of OCP's phosphate operations.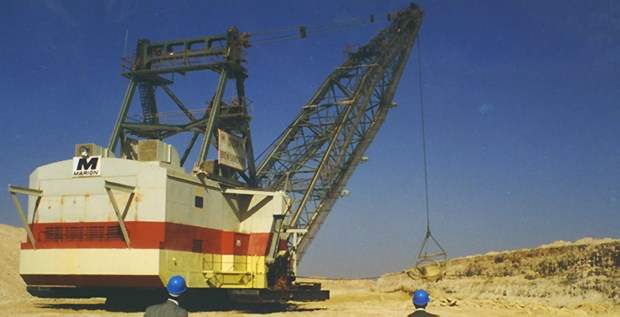 One of the Marion 7500 walking draglines used for stripping overburden at Benguérir.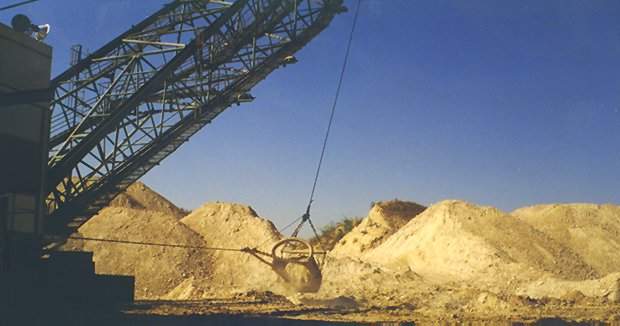 Overburden dumps at Benguérir.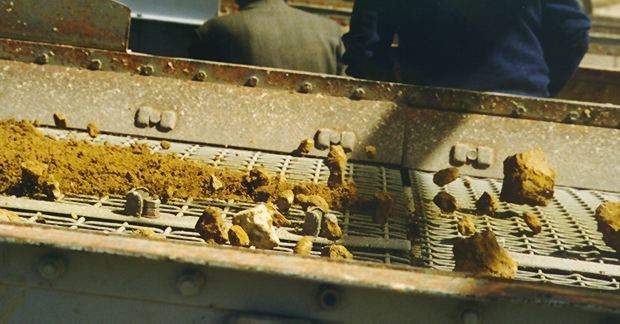 Run-of-mine phosphate rock is screened before being sent for further processing at Youssoufia or Safi.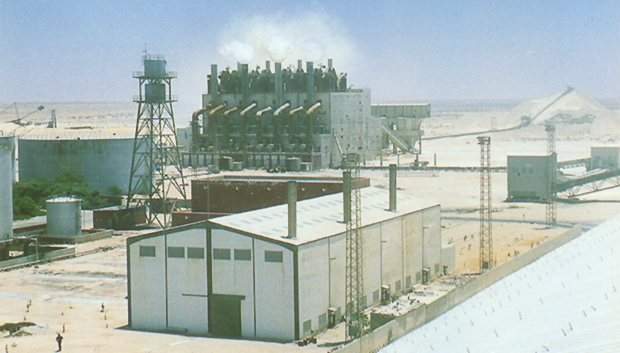 Phosphate processing plant at one of OCP's other operations, Phosboucraa.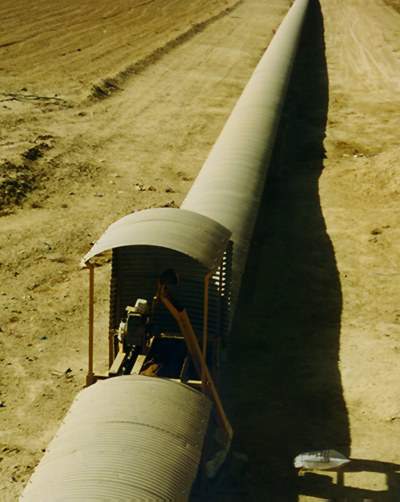 Phosboucraa rock is hauled to Laâyoune by a 98.3km conveyor system.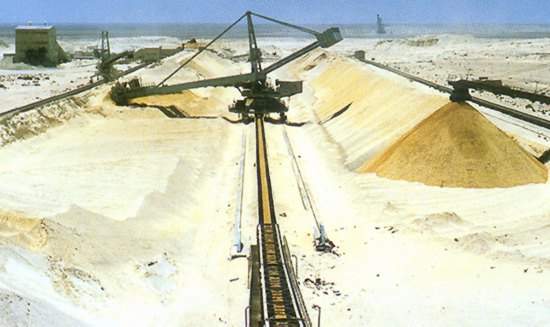 Stockpiles at Bourcraâ, which adds 2.4Mt/y to OCP's output. Total OCP phosphate rock output in 1997 was 22.8Mt.
Located 70km north of Marrakesh, Benguérir is the newest of Morocco's four phosphate mining centres, having started production in 1979–80. Operated by Office Chérifien des Phosphates (OCP), the opencast mine works 24h/d in three shifts and is managed together with the Youssoufia mining and treatment centre. OCP employs around 775 people at Benguérir.
OCP, a state-owned agency formed in 1920, is solely responsible for the Benguérir, Khouribga and Youssoufia mines in central Morocco. The Oued Eddahab deposits in Western Sahara are worked by Phosboucraa, in which OCP acquired a majority interest during 1975.
OCP moved into downstream processing in 1965, converting lower-grade rock to phosphoric acid and fertilisers at its plants at the coastal town of Safi. In 1975, Maroc Phosphore was established as a 100% subsidiary of Groupe OCP, primarily to add value to more rock and to export intermediate phosphate products. The first complex was built at that time.
A second – Maroc Phosphore II – was commissioned in 1981 and a number of joint venture operations since have been established with foreign fertiliser manufacturers, the most recent project involving the Brazilian company, Bunge.
GEOLOGY AND RESERVES
Morocco's enormous measured phosphorite resources of 85,000Mt are hosted in upper cretaceous, palaeocene and eocene sediments. Sequences comprising clays, marls, limestones and cherts contain several phosphate-rich beds. Benguérir exploits the north-central section, and Youssoufia the western part of the Ganntour reserves (31,000Mt).
Phosphate-rich beds C5 and C6 have been worked near surface while beds C1 to C6 can be worked down dip. Mineable phosphate-rich beds range from 1m to 3m in thickness and grade 22% to 28% P2O5.
"In 1975, Maroc Phosphore was established as a 100% subsidiary of Groupe OCP, primarily to add value to more rock and to export intermediate phosphate products."
MINING
In the first phase of operations (1980–94), up to 3.1Mt/y was mined from the C5 and C6 beds in the near-surface western area. Phase 2 (1994–2018) has continued at the same rate, but is now planned to rise to 4.5Mt/y as beds C1 to C4 are accessed down-dip. The strip ratio currently averages 3.5:1.
Six benches of overburden and phosphate are drilled with rotary blasthole drills and blasted. The waste is stripped by draglines, which dump the rock in the already mined out void and the phosphate loaded by electric shovel or wheel-loader into trucks for haulage to the primary crusher.
The current equipment fleet comprises: two Marion 7500 walking draglines, two P&H 2355 crawler draglines, two Bucyrus-Erie 200B draglines and two B-E 155 electric shovels, two Caterpillar 992C wheeled loaders, six blasthole drills, 22 dump trucks (from 75t to 150t capacity), 24 bulldozers, three graders and three water spray trucks.
OCP acquired the P&H draglines, two Cat and two Komatsu large dozers and four 136t Komatsu haul trucks have been bought for Phase 2.
ORE PROCESSING
Only simple treatment is undertaken at Benguérir. Feeders remove chert and flint ahead of a Krupp primary jaw crusher, which discharges to open storage. A reclaimer supplies a Koch screening plant, which separates plus-10mm waste and supplies minus-10mm wet product at 1,000t/hr by conveyor to the 800,000t-capacity storage/reclaim system.
Moist screened rock is mainly railed 167km to the chemical complex at Safi on the Atlantic coast, with the balance going first to Youssoufia for blending and processing there and thence to Safi.
Here, Benguérir rock is mainly used as feed for the Maroc Phosphore II facility, which incorporates four FCB rock washing lines and three 160,000t/y phosphoric acid plants.
PRODUCTION
Moist screened rock output at Benguérir in 2006 was 3.1Mt, while total OCP phosphate rock exports were 21.63Mt.