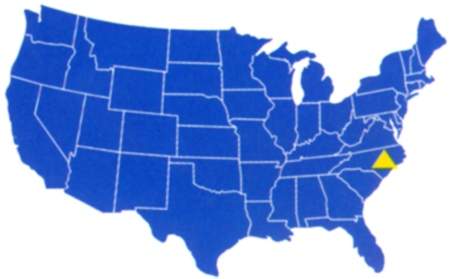 The Aurora mining complex is located in North Carolina, USA.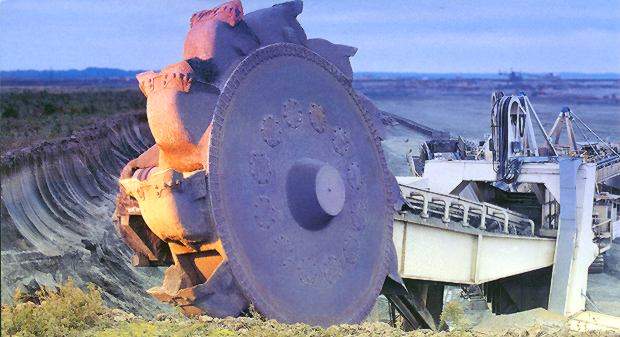 Aurora is one of very few operations in the USA to use bucketwheel excavators for overburden stripping.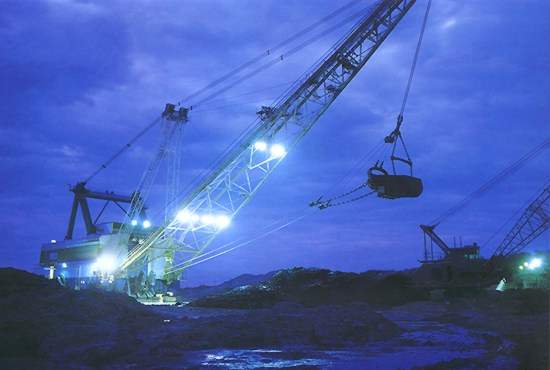 The phosphate ore is mined using draglines then slurried and pumped to the processing plant.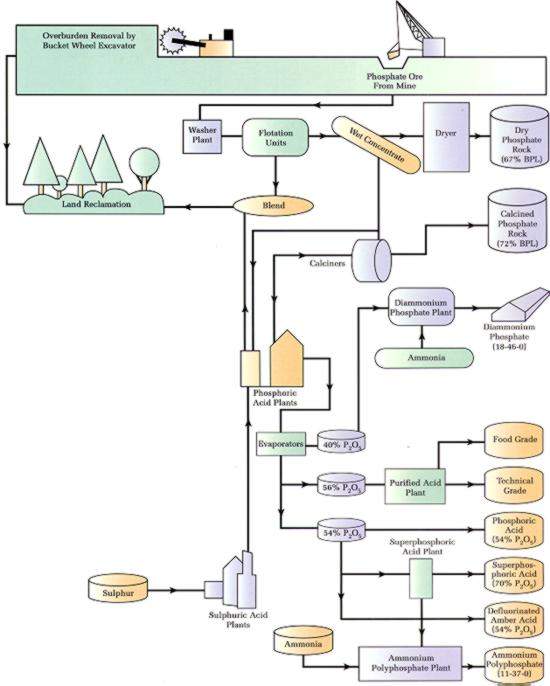 Schematic of the Aurora mill flowsheet.

Products are loaded on to enclosed barges for the journey to the export port at Morehead City.
PCS has received both US and state awards for its reclamation work at Aurora.
The Aurora phosphate operation is located at Lee Creek in Beaufort County, North Carolina, USA. The largest integrated phosphate mining and chemical plant in the world, it is wholly owned by the Potash Corporation of Saskatchewan (PotashCorp) and has the capacity to produce 6.6mt/y of phosphate ore, 1.3 mt/y of phosphoric acid and 0.2mt/y of phosphate feed.
PotashCorp bought Aurora from Texasgulf in 1995 as its first phosphate operation, and purchased the agricultural products division of Occidental Chemicals six months later.
GEOLOGY AND RESERVES
The phosphates were deposited by a receding sea 15My ago. The phosphate ore zone is approximately 30m beneath a low-grade phosphate sand covered by sand and silt beds. The ore zone, averaging about 13% P2O5, is 12m thick and consists of phosphate sand (35%), fine quartz (45%) and clay and silt. The phosphate occurs as small rounded pellets, usually less than 1mm in diameter, containing organic matter, fluorine and other trace elements.
As of end-2005, Aurora had estimated proven and probable reserves of approximately 356Mt of phosphate rock at an average grade of 30.7% P2O5. The company has rights to an area of 8,900ha of phosphate-bearing reserves, sufficient to support its operations for some 75 years. In June 2009, PotashCorp received permission from the US Army Corps of Engineers to mine reserves within the extra-territorial jurisdiction boundaries for 30 years.
MINING
Bucket wheel excavators (BWEs), supplied by the German company, PWH – PHB Weserhutte (now Krupp Fördertechnik), remove the top 10m of overburden and convey it from the active mining area to the mined-out pit. The remaining 18–21m of overburden is removed with draglines to expose the phosphate ore. The equipment consists of four SR630 compact BWEs, five mobile transfer conveyors, 4km of shiftable conveyor for round-the-pit overburden haulage and two rail-mounted tripper cars with slewing conveyors.
Water pumped from the underlying Castle Hayne formation aquifer to keep the open pit dry is recycled to the phosphoric acid plant and cooling systems.
Preparations for opening up the new NCPC mining area began in late 2000, with dragline stripping beginning in early 2001. The new pit produces the lowest-cost phosphate ore in the US.
PROCESSING
The Aurora complex is designed to produce the following:
Dry phosphate rock (67% bone phosphate of lime, BPL)
Technical/feed-grade phosphoric acid (56–62% P2O5)
Di-ammonium phosphate (DAP)
Ammonium polyphosphate solution
Superphosphoric acid (SPA, 68–71% P2O5)
Merchant-grade phosphoric acids (MGA, 52–54% and 56–58% P2O5)
The facility includes six sulphuric acid plants, four phosphoric acid plants, a liquid fertiliser (11-37-0) plant, a superphosphoric acid plant, two DAP plants, and a solid fertilizer plant producing DAT, GTSP (granular triple superphosphate) and MAP (monoammonium phosphate). In 2004, PotashCorp committed $73m to a further 82,000t/yr expansion to the purified-acid plant, with the aim of diverting some P2O5 capacity to higher-value end-uses. The expansion was completed in 2006 with the installation of 82,000t additional capacity.
"The company has rights to an area of 8,900ha of phosphate-bearing reserves, sufficient to support its operations for some 75 years."
The ore is mixed with recycled water to form a slurry and pumped to the processing plant where it is screened to remove coarse materials, washed to remove clay and floated to remove sand. The final product of this stage is phosphate rock. The subsequent phosphate processing operations also require sulphur, sulphuric acid and ammonia.
The company maintains research and development facilities at Saskatoon, Canada, where methods of improving efficiency in mine operations and product quality are developed.
PRODUCTION
The Aurora facility has not been working at its full capacity for a number of years. During 2008, the mine produced . 6.6 Mt of phosphate ore, generating 1.3Mt of phosphoric acid. Annual production records were set for defluorinated phosphate, purified phosphoric acid and ammonium polyphosphate.
In 2007, the company initiated a $260m debottlenecking project in order to expand production of phosphoric acid to 180,000t/y. The project also included the construction of a new sulphuric acid plant.
During the first quarter of 2008, silicon tetrafluoride units were commissioned, enabling the plant to register a record production of silicon tetrafluoride. During the same period, two phosphoric acid evaporators were commissioned for producing hydrofluorosilicic acid.
TRANSPORTATION
The complex is located on a waterway with a barge slip for PotashCorp's tugs and barges to the deep water port of Morehead City. The company leases a shipping terminal here which receives and stores raw materials, as well as products manufactured by the Aurora facility. A 50km railroad spur connects the complex to both the Norfolk Southern and CSX railways while road trucks can be loaded with liquid or dry products 24 hours a day, seven days a week.
ENVIRONMENT
Phosphate operations focus on air emission control, water management, solid waste disposal and land reclamation focusing on forests and wetlands. All process waters are recycled and contained on site. In addition, it has a solid waste-minimising programme that emphasises recycling. In early 2005, the plant was awarded North Carolina's Mining Stewardship Award for reclamation.
In 2008, PotashCorp undertook a number of initiatives to reduce environmental impact. To minimise the biological consumption of cadmium and other heavy metals from gypsum and clay mixed reclamation soil, nearly six acres of the R-2 reclamation zone was covered with 3ft of soil.
The 713-acre Bay City Farm was restored by planting 220,000 tree and shrub seedlings. In November 2008, restoration work on the 217-acre Back Creek Restoration project was also initiated.
The company also decided to replace two sulphuric acid plants with one energy efficient plant. The new plant will be equipped with a recovery unit while the existing turbo generator will be upgraded in order to generate electricity by using the steam released by the plant. Work on the wastewater treatment project also began in 2008.