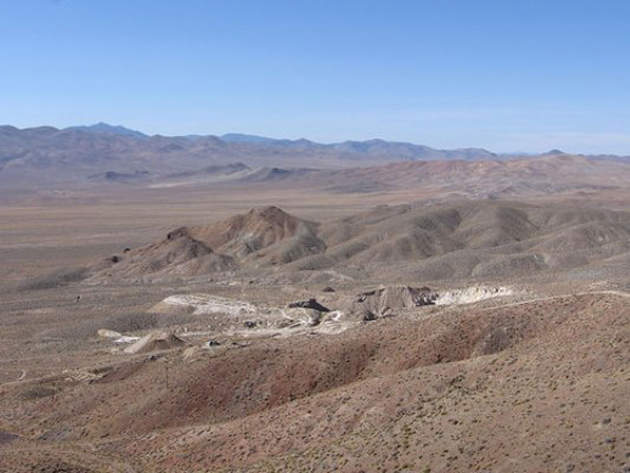 Ann Mason is an advanced copper-molybdenum project being developed in Nevada, US. It comprises the he Blue Hill oxide-copper deposit and the Ann Mason copper-molybdenum deposit, which is considered to be the fourth biggest copper porphyry resource in Canada and the US.
The project is estimated to produce 5.1 billion pounds of copper, 46 million pounds (Mlb) of molybdenum, 400,000oz of gold, and 8.8Moz of silver through the life of mine. It is anticipated to produce an average of 241Mlb of copper a year over its life.
The updated preliminary economic assessment (PEA) of the Ann Mason project was completed in March 2017. The mine life is estimated to be 21 years, with a potential extension for 15 years.
Mason Resources, a Canada-based company focused on copper exploration and development in the US, gained ownership of the Ann Mason project following a spin-out arrangement made by Entrée Resources in May 2017.
Geology and mineralisation of Ann Mason
Spread over 12,735ha, the Ann Mason copper-molybdenum project is located approximately 75km south-east of Reno and 7km west of Yerington, Nevada.
The deposit is made up of a 0.15% copper envelope covering approximately 2.8km north-west and up to 1.3km north-east, while extending more than 1.2km below surface.
The deposit is hosted by several phases of the Jurassic Yerington batholith, including granodiorite, porphyritic quartz monzonite, and quartz monzonite porphyry dykes.
At the deposit, chalcopyrite occurs as individual grains in veins and disseminated in rock, while bornite occurs as separate grains in veins, and disseminated in rock and attached to chalcopyrite. Molybdenum is present as molybdenite in quartz and quartz-chalcopyrite veins and on fracture or shear surfaces.
The Blue Hill deposit lies approximately 1.5km to the northwest of the Ann Mason deposit and is made up of two styles of porphyry mineralisation, namely oxide and mixed oxide-sulphide copper mineralisation, and copper-molybdenum sulphide mineralisation.
"The Ann Mason copper-molybdenum project is located approximately 75km south-east of Reno and 7km west of Yerington, Nevada."
Mineralisation at the deposit is hosted by quartz monzonite with reduced amounts of porphyritic quartz monzonite and quartz monzonite porphyry. The sulphide mineralisation is open in several directions, majority to the south-east, towards Ann Mason.
Reserves
The Ann Mason deposit is estimated to contain measured and indicated resources of 1,400Mt of ore. It is estimated to contain 9.89 billion pounds of copper, 186.6Mlb of molybdenum, 1.33Moz of gold and 29.46Moz of silver.
The Blue Hill deposit is expected to contain inferred resources of Oxide/Mixed 72.13Mt of ore containing 277Mlb of copper.
Mining at the Ann Mason project
Conventional open-pit method of mining involving drilling, blasting and loading of ore will be applied at the Ann Mason project.
The mine is proposed to be developed in five phases including three years of pre-production and 21 years of production, at a mill feed rate of 120,000t/d.
Processing of ore from the Ann Mason mine
Ore from the mine will be initially crushed in a primary crusher, stockpiled and sent to the semi-autogenous grinding (SAG) mill through mill feed conveyors. The SAG mill will comprise variable speed feeders plus mill feed size distribution measurement. The Ann Mason concentrator is designed to handle 3Mt of ore a month.
The undersize from the mill will be forwarded to the ball mill circuit. Operating in closed circuit with cyclones, the ball mill cuts the ore at a P80 of 155μm. The cyclone overflow will be forwarded to the rougher flotation circuit, which consists of a series of nine tank cells.
The rougher flotation concentrate will be reground to an 80% passing size of 45μm in a ball mill, which operates in closed circuit with a cyclone cluster. Cyclone overflow will pass through three cleaner/scavenger circuits.
The first cleaner/scavenger circuit will comprise eight tank cells in series. The scavenger tailings will be fed by gravity into the rougher scavenger concentrate pump box. The second and third circuits will comprise five and four tank cells in series.
Concentrate from the third cleaner will be pumped into the conditioning tank in the copper-molybdenum separation circuit comprising molybdenum roughers with six tank cells.
The molybdenum rougher concentrate will undergo five stages of cleaning, with the last two stages in column cells. The final molybdenum concentrate and the copper concentrate (molybdenum rougher tailings) will be thickened and press-filtered.
The copper concentrate will be loaded onto trucks and/or stockpiled, while the molybdenum concentrate is rotary-dried and loaded into drums.
Infrastructure facilities at Ann Mason
Electricity for the site will be sourced from the existing NV Energy 120kV transmission line in service east of Yerington, Nevada. A new 10km-long 120kV line will be constructed to connect the site with the transmission line.
The concentrate storage building will have a capacity to hold approximately 10,000t of concentrate.
The project will have a fuel storage tank with a maximum fuel storage capacity of 300,000l, which is proposed to be increased to 500,000l in the fifth year of production.
The mine is accessible through a 16km-long access road from the US Highway 95-Alternate.
Fresh water of approximately 63,600m³/d will be sourced from wells and treated before use. Potable water will be available in bottled containers.
Key players involved with the Ann Mason project
Mason Resources engaged AGP Mining Consultants and Amec Foster Wheeler Americas for preparing the PEA report for the Ann Mason project.