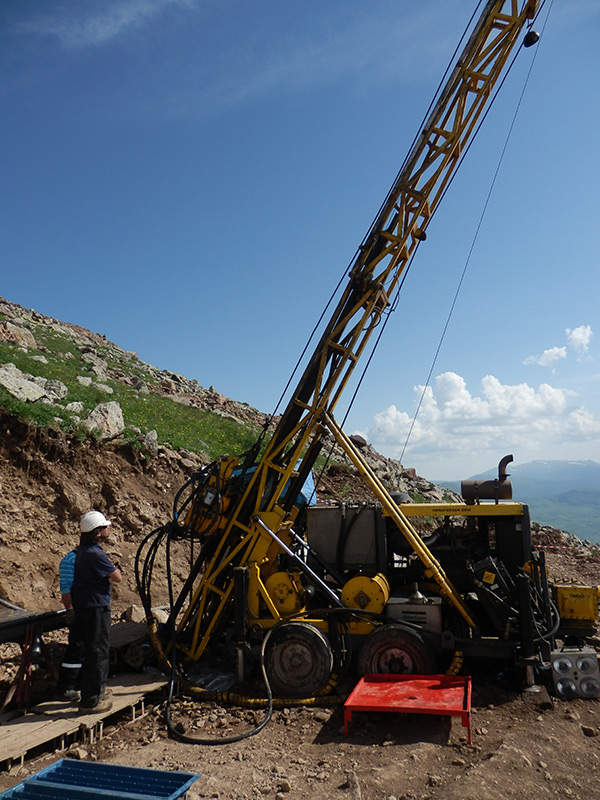 Atlas Diamond Drill Rig deployed at the Amulsar gold project in Armenia. Image courtesy of Lydian International Ltd.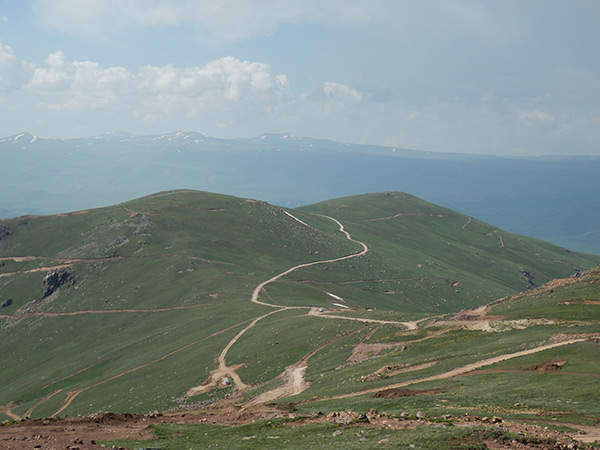 Erato gold zone is one of the three identified prospects at the Amulsar gold mine. Image courtesy of Lydian International Ltd.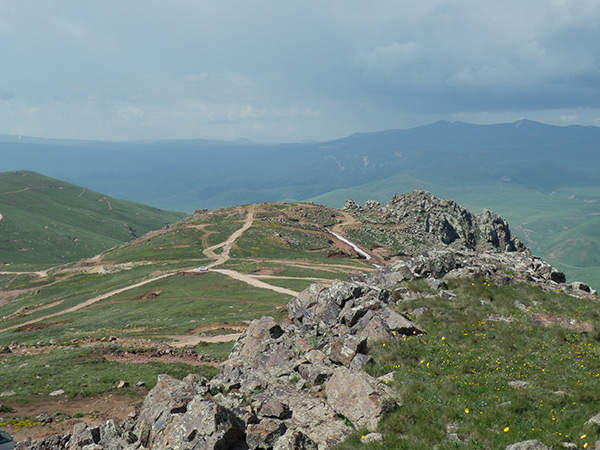 An aerial view of the Erato and Tigranes gold prospects. Image courtesy of Lydian International Ltd.
Amulsar gold mine is located 170km south of the capital city Yerevan in Armenia. The mine was discovered in 2006 by Lydian International in the south of Armenia, on the border between the provinces of Vayots Dzor and Sunnik.
The project falls under two special prospecting licences (SPL), numbers 41 and 42, and a small mining licence (14/588). These licences cover an area of 113 square kilometres and are 100% owned by Lydian's fully owned subsidiary Geoteam CJSC (closed joint stock company). The SPLs, granted in 2009, are valid for five years, while the mining licence is valid for 25 years.
Lydian started 2012 drilling programme in May in order to determine new mineralisation and to broaden current resource shell. Lydian plans to start full production from the mine in 2014.
Geological features of the gold mine
"Drilling at the gold mine commenced in 2007 and the inferred resources of one million ounces was estimated by March 2009."
Amulsar mine is categorised as a high sulphide, epithermal-type gold silver deposit. The property is bedded in a sequence of volcanic and volcano-sedimentary rocks. These rocks, formed during the Eocene-Oligocene period, have basaltic to dacitic composition.
Gold mineralisation and other developments, such as formation of multistage ground and hydrothermal rudaceous rocks, took place due to episodic fault activity and high rates of conversion of magma to igneous rocks.
The property sits in what is said to be a structurally complex zone situated next to a large volcanic crater, just east of the deposit.
North-east south-west striking normal faults and north-west south-east striking sinistral faults are the two faults that dominate the morphological trends. Both of them have acted as channels for mineralising fluids and possess top-quality gold mineralisation.
The above geological architecture has led to the creation of top-quality gold mineralisation in several sub vertical structures.
Lydian's drilling programme at the Amulsar deposit
Amulsar is the first gold mine to be discovered in Armenia in 20 years. Initial geochemical study of the site's soil, undertaken during 2006 and 2007, ascertained an area of 3.5km x 0.5km.
"Located approximately four kilometres south of the mine, the main tarmac road connects to Yerevan, the capital city of Armenia."
A further soil sampling, done in 2010, expanded the field of gold mineralisation to 3.6km by one kilometre (approx). The new soil data helped in determining more drilling targets and extensions, as well as identifying Tigranes, Artavasdes and Erato target areas.
Drilling at the gold mine commenced in 2007 and the inferred resources of one million ounces was estimated by March 2009. One year later, the inferred resources increased to 1.4 million ounces.
In January 2012, the mine was announced to have 68.2mt at 1.0 g/t Au (2.1 million ounces) of indicated resources and 36.1mt at 0.9 g/t Au (1.1 million ounces) of inferred resources.
A total of five scout drill holes measuring 593m in all were drilled in 2007. An additional 18 diamond holes and 74 reverse circulation (RC) holes were drilled in 2008. During the 2009 drilling programme, eight diamond holes and 101 RC holes were drilled.
A further 60 diamond holes and 129 RC holes were completed in the year 2010. In 2011, the company drilled 40,000m to identify the exploration potential in the Tigranes North, Tigranes East, Artavasdes West, Artavasdes South and Arshak areas.
Lydian plans to drill at least 25,000m of combined diamond and RC holes during its 2012 drilling season.
Infrastructure of the Armenian gold mine
The project site is well positioned in terms of road connectivity and other infrastructures.
Located approximately four kilometres to the south of the mine, the main tarmac road connects to Yerevan, the capital city of Armenia. The highway is flanked by high voltage power transmission lines.
The project site is connected to the small town of Jermuk via a 15km dirt road. The town, in turn, is connected with paved roads.
Water can be sourced from the Vorotan River and Spandaryan reservoirs, which are located three kilometres east and eight kilometres south-east respectively.
Other accessible infrastructure includes fibre-optic internet cabling and gas supply through the Iran – Yerevan gas pipeline (under construction). Local labours are sourced from nearby small towns and villages.
Processing ore from the Amulsar gold mine
---
Related project
---
Savkino Gold Mine is located 400km east of Chita in the Zabaikalsky Province of South Siberia.
---
Exploited ore from the pit will be hauled and then be directed to a three-stage crushing plant. A jaw crusher will be used for primary crushing, while a cone crusher will be used for secondary crushing. Tertiary crushing will be done by two similar cone crushers.
The three-phase crushing will trim the size of the run-of-mine (ROM) ore from 700mm top size to 12mm. The crushing plant is designed to process a maximum of five million tons per annum (mtpa). In the first year of its operation, it will be able to process 3.75mtpa. Full capacity will be achieved in the second year.
An overland conveyor belt will be used to carry the crushed ore to a distance of about 3.5km for distribution along the north side of a leach pad. From here, the ore will be placed through a series of conveyors and through a tripper conveyor. The ore will finally be placed on the leach pad by a stacking conveyor.
Leach solutions will then be added to extract precious metals from the ore.
Processing plant for Lydian's Armenian project
The processing plant will have an overland conveyor, lime silo, portable conveyors and stacking conveyor. They will be installed in the phase I of development. Phase II will include an additional 16 portable conveyors.