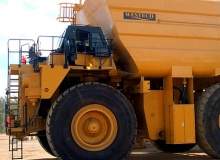 Austin Engineering offers water tank modules for dust suppression or firefighting trucks. The heavy-duty modules are suitable for 6 x 6 road articulated or off-highway trucks.
Austin Engineering's unique stair access water tank module has larger baffle openings than traditional tanks and a direct line of travel, to improve worker safety during maintenance. The baffle design reduces surging and improves the truck stability by up to 18%.
The water tanks are available in capacities of 14,000l to 180,000l.