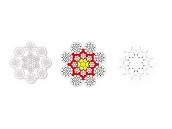 CASAR is committed to providing the broadest range of wire ropes for all of your mining applications.
Our comprehensive line of underground mining ropes for drum hoists, friction winders and shaft sinking applications offer strength and reliability while ensuring convenient sourcing for all your needs, including specialty applications.
CASAR specialty hoisting products deliver precisely engineered and custom designed solutions for each application.
Rope selection considerations for double drum and BMR winders
On Blair or Double drum hoists with two or more layers of winding triangular strand has been used with good success.
When fatigue and abrasion become an issue, CASAR can make triangular strand constructions by varying the number of wires in each strand from 26 (more abrasion-resistant) up to 36 (more fatigue-resistant) to help reduce these concerns.
When the frequency of performing drum end cuts becomes an issue, our CASAR Turbofit M and Turboplast M constructions can help reduce the frequency of performing this task.
Turbolite M
Lightest hybrid mine hoist rope on the market
Best strength to weight ratio hoist rope on the market
High-strength fiber core for increased strength and resistance to bending fatigue
Flexible for ease of installation and rope maintenance
Minimized stretch compared to other fiber core hoist ropes
Turboplast M
Eight-strand construction with compacted outer strands
Fully lubricated
Plastic layer between steel core and outer strands
High breaking force
Good resistance to drum crushing
Available in ordinary (regular) lay or lang lay
Mineplast VM
Rotation-resistant with compacted outer strands
Fully lubricated
Plastic layer between steel core and outer strands
High breaking force
Good resistance to drum crushing
Available in ordinary (regular) lay or lang lay