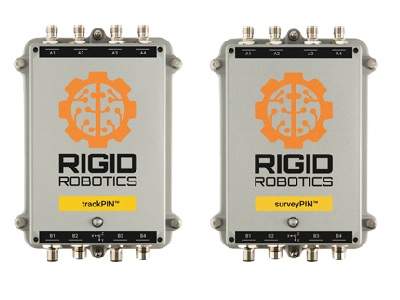 RIGID ROBOTICS offers two high-precision positioning systems in order to meet the accuracy requirements of all mining operations.
trackPIN™ is a revolutionary product that provides tracking-grade positioning with up to 2.5cm of accuracy. A low price point means that mines can install trackPIN on all of their equipment, including haul trucks and light vehicles, enabling applications that were not possible without high precision positioning.
sureyPIN™ offers up to 8mm of accuracy, matching or exceeding competing positioning systems despite a lower cost of ownership. surveyPIN's quick acquisition time enables it to provide positioning data for even the most demanding applications.
Both trackPIN and surveyPIN feature multi-constellation RTK as well as two levels of dead reckoning in order to ensure maximum position availability. Dual antennas provide heading while an open-API (application programming interface) ensures easy integration into both existing and future systems on any vehicle.
An integrated 1W Wi-Fi router enables trackPIN or surveyPIN to easily provide positioning data, as well the data from any connected systems, to the mine's network. Ethernet, CAN, and RS485 enable integration with fleet management systems.
Shared components such as antennas and cabling ensures that swapping between trackPIN and surveyPIN boxes is essentially plug-and-play. This enables mines to quickly gather more accurate positioning data on demand.