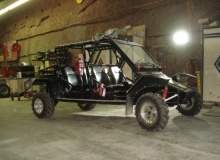 Tomcar manufactures a mining-specific model specifically designed to support mine operations.
The TM5MBR vehicle is now available directly through Tomcar's website, as well as via exclusive distributors and any company representatives, all at the same price.
Tomcar TM5 Mine Spec benefits from an even tougher structure than the standard version, with the following features:
Full ROPS frame to meet ISO 3471:2008 standards as well as to ANSI-ROHVA-12011
Double zinc and titanium frame coating to reduce corrosion
Stainless steel floor pan and side steps
Full roof light bar with flashing amber light and spot lights
LED headlights and indicators
Reverse alarm, high beam LED reverse lighting and reverse camera
Positive cabin air pressure with optional air-conditioning
Four-point or three-point lap sash seat belts
Rugged construction, extraordinary suspension and unique driveline design
The Tomcar can survive in highly challenging conditions that would corrode a lesser vehicles in months. They are designed for easy maintenance and repair with simple hand tools and a small amount of parts.
The vehicles are ideal for transporting anything across extreme terrain without the high running costs and expensive downtime.
All Tomcars have the same wheel track as a Toyota Landcruiser, so can follow ready-made tracks with ease.
Tomcar offers:
Servicing intervals of 200 hours
Protect drivers back from injury
A braking system that is easy to clean and maintain
A wiring loom that can be entirely replaced in one hour
Unsurpassed vehicle safety