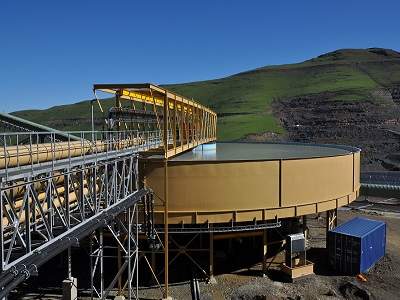 MIP Process Technologies thickeners consist of the following basic parts, each of which is supplied in a number of variations to best suit a particular application:
Tank
Drive unit and optional lifting device
Torque tube (centre shaft)
Rake arms and blades
Bridge
Underflow discharge arrangement
Dual feedwell
Overflow launders with weirs
Instrumentation
Thickeners and clarifiers are operating in the minerals processing, chemical water treatment, industrial and effluent treatment throughout the world. In addition to this existing technology, MIP brings customised and tailor-made process solutions.
In our design, we consider not only your process data, but also the long-term mechanical performance, maximum circuit efficiency, availability and minimised operating costs.
Some of our design considerations include:
Precise sizing for the dutyhigh torque planetary gearbox
Accurate torque measurement, including a 'high-torque' audible and visual alarm with 'over-torque trip' for mechanism protection in the event of ultra-high torque conditions
High-efficiency feedwell: adjustable feed dilution system
Ability to monitor and/or operate via Scada, if so desired
Multiple flocculant addition points for easy optimization
Full-span walkway for dual emergency exits and to allow easy access