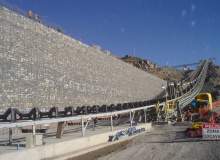 Maccaferri's Terramesh® is a modular system used to form rock faced reinforced soil walls (also known as mechanically stabilised earth) and embankments.
It has been used globally on some of the most significant mining and infrastructure schemes, including what is believed to be the tallest reinforced soil structure in the world at 74m-high.
Within mines, Terramesh is regularly used for crusher and tip walls, and conveyor structures, as well as throughout mine infrastructure to support haul roads, and for general soil reinforcement and retaining structure applications.
On taller slopes and structures, Terramesh can be used in conjunction with Maccaferri high-performance primary geogrids, ParaLink®, ParaGrid® and MacGrid® WG. These hybrid structures can comfortably withstand the massive forces associated with loaded haul trucks.
Following assembly on-site, the Terramesh fascia unit is filled with suitable gabion stone fill. Structural backfill is then placed upon the soil reinforcement geogrids and compacted. Subsequent Terramesh layers are placed onto the completed layer beneath. The company endeavours to reuse site-won materials as the structural backfill to these walls whenever possible; not only is this cost effective, but it embraces sustainability.
Terramesh units are fabricated from heavily galvanised GalMac® and polymer coated steel wire to even outlast the mine. Terramesh is produced in Maccaferri factories around the world, ensuring availability and capacity. The management and production system in many of the company's factories is certified in compliance with ISO 9001.
Maccaferri offers mine designers, contractors and clients engineering support services, from initial consultation to full design-supply packages. Some Maccaferri business can also offer turnkey packages.