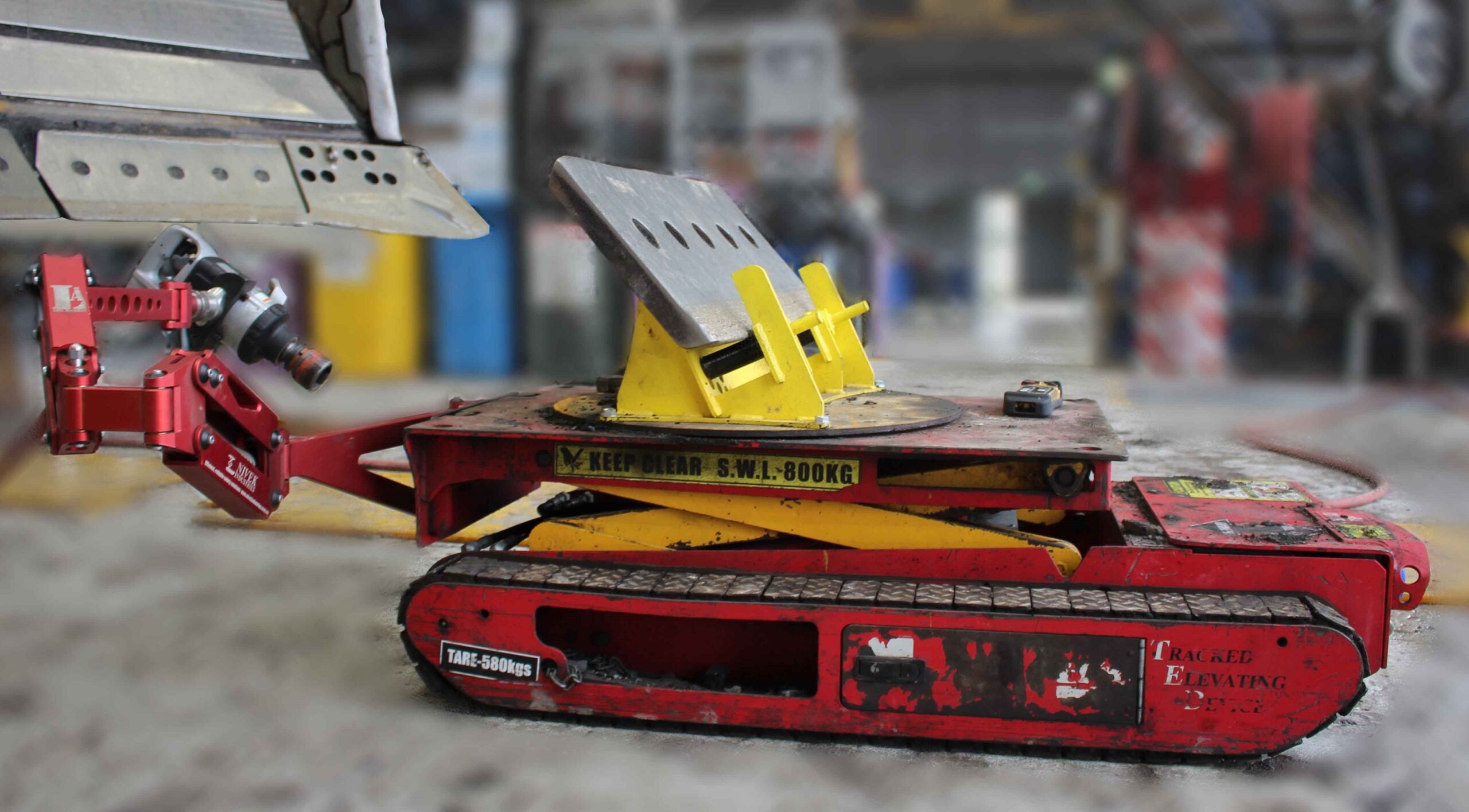 What is a life worth?
Remove your workers from the line of fire, with TED's remote-control operation.
Field to workshop; maintenance, rebuilds and breakdowns, TED will help keep your fitters safe and improve efficiency shift after shift.
The Tracked Elevating Device, fondly known by mining fitters around the world as 'TED' is an essential piece of safety gear for anyone working on dozers, graders, dump trucks and other mining and earth-moving machinery.
TED is the only remote-controlled, all-terrain, hydraulic, belly plate jack on the market. With a lifting capacity of 800kg, a low-profile design granting access under most plants, an ingenious 360° turntable for ease of lining up bolt holes, and a comprehensive range of attachments, TED has evolved into an invaluable, multipurpose workshop tool.
TED™ can be used in very tight spaces under machinery to remove and replace belly guards, and other heavy components. With the constantly growing array of attachments available for TED™, the need for personnel to push, pull, or carry heavy loads in tight awkward situations in the workshop and the field, is greatly decreased.
Improve the efficiency and safety of maintenance operations in your workplace with the versatility and reliability of a TED™.
Why is TED so important?
Belly plates crush fitters! Right here in Australia there have been numerous fatalities from falling belly plates whilst carrying out maintenance in the past 3 years.
Protecting against back, shoulder, neck and muscular skeletal injuries. By taking the weight off the body in awkward unnatural postures, fitters can expect a reduction in manual handling related injuries.
Fatigue reduction, resulting in greater alertness and less chance for 'mind off the job' injuries.
Hand and finger pinch and crush injuries. Keep your fitter's hands away from pinch points and crush zones by having components supported by TED and attachments.
Unplanned moves and stored energy release are some of the most dangerous hazards in mining. Keeping your fitters out of the line of fire by using a remote-controlled TED, will help to safeguard against these deadly hazards in many maintenance applications.
All-terrain capabilities
Being all-terrain is what really sets TED apart efficiency-wise.
TED's tracks and front blade allow access to a wide variety of terrains, making field service a safe alternative to costly haulage in some cases.
According to Paul Bullock, Maintenance Supervisor at HVO coal mine in NSW Australia, "It's out in the field that TED really comes into his own, possibly saving up to four shifts of downtime."
"Many of the machines in the pit that would normally have been down for multiple shifts have been dealt with in a timely, safe manner."
Being able to safely repair machines in the pit, can provide significant savings on float costs, avoiding large amounts of costly downtime, thus keeping production moving smoothly.
Transportation made easy
It is very simple to transport TED between the workshop and field or pit, either on the back of a ute, or in a Pit Rescue Trailer (also available from Nivek Industries). TED can be loaded quickly and easily using ramps, or just lifted on with a forklift or crane.
The TED home, designed with fork lifting points and tie-down anchors, allows you to transport TED with up to 14 attachments in an organised manner, enabling your fitters to have all the essentials at their fingertips even in the field.