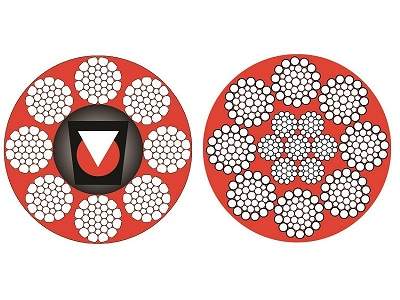 Wire ropes play a vital role in a mine's production. WireCo WorldGroup is a world leader in wire and synthetic rope manufacturing.
From hoisting to hauling, you can rely on our ropes to reliably meet the demands of your operation. Drawing on more than 75 years of global mining experience, we've developed specialized products that overcome obstacles and lengthen service life. Combined with our unmatched field expertise and consultative approach, it's everything you need to maximize performance and value.
In the operating ropes of large surface mining equipment, not all characteristics have equal importance. There are two characteristics – resistance to metal loss and deformation and fatigue resistance – that are usually the main considerations. Most applications require a balance of these two characteristics. The strength of the ropes can also be important of course, when considering a different rope construction.
TUF-MAX® ROPES for shovels
The most fatigue-resistant ropes we offer for shovel hoist applications, TUF-MAX® ropes provide increased abrasion resistance. Such advantages, combined with the qualities of an eight-strand rope and the toughness of PFV® ropes, result in maximum service for more digging time between rope changes.
TUF-MAX™ CR ROPES for shovels
This crowd and retract rope was specifically designed to minimize stretch. This rope has been tested and proven to provide the best performance as crowd and retract ropes.
POWERMAX PFV for draglines
This fully PFV'd version of our class-leading Powermax dragline hoist and drag ropes is now offered in diameters up to 5in. The advanced polymers used in Powermax PFV help seal lubricant within the rope, cushion the steel rope components from radial stresses, and provide exceptional abrasion-resistance where harsh digging conditions exist.
Powermax PFV constructions also use balanced wire diameters to ensure proper resistance to bending fatigue while maintaining great protection from wire wear.