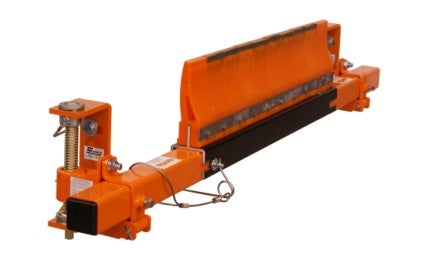 Martin Engineering's SQC2S™ secondary conveyor belt cleaner for medium to heavy-duty applications is suitable for belt widths of 18in to 96in, operating at speeds up to 5.1m per second.
SQC2S cleans belts without damaging the belt rubber, the splice or the blades due to its individually cushioned tungsten carbide blades. Martin's patented rubber buffers ensure that the cleaning pressure is constant but that splices can pass unharmed.
It is rugged enough to be used for intensive production levels on high-speed belts with high-tonnage loads.
Key features include:
Easy, one-pin blade replacement
Can be installed in close quarters with a narrow profile that resists material build-up
Belt direction can be reversed without damage using the rubber buffers
Colour-coded, high-performance urethanes to match the needs of the operation
Available with acid-resistant blades for belts with clips, acid-resistant for reversing belts, tungsten carbide or urethane
Farside Tension Adjuster also available
A global leader in bulk material handling solutions provides a family of responsive conveyor belt...