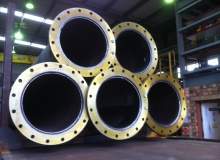 Permapipe provide specialist piping fabrication of carbon steel, stainless steel, copper and plastic piping for the mining, HVAC-R, oil and gas, water treatment and fire industries.
Permapipe has a diverse and highly skilled workforce, with a strong emphasis on the continuous improvement and up-skilling of its employees. Pipe fabrication personnel are qualified to Permapipe's ASME IX certified welding procedure.
As a member of the Welding Technology Institute of Australia, Permapipe is dedicated to remaining at the forefront of welding and fabrication technology.
Permapipe's processes include qualified welding to ASME IX, roll grooving, cut grooving, flanging, beveling, band saw pipe cutting, pipe spooling and fabrication of multi-service modular pipe racks and assemblies.
Through a range of external supply partners, Permapipe also provide add-on services such as abrasive blasting, internal and external corrosion protection, NATA accredited non-destructive weld testing and pressure testing.
Permapipe's purpose-built production facility has the capability to fabricate pipe up to 900mm diameter, at lengths of 12m and more.