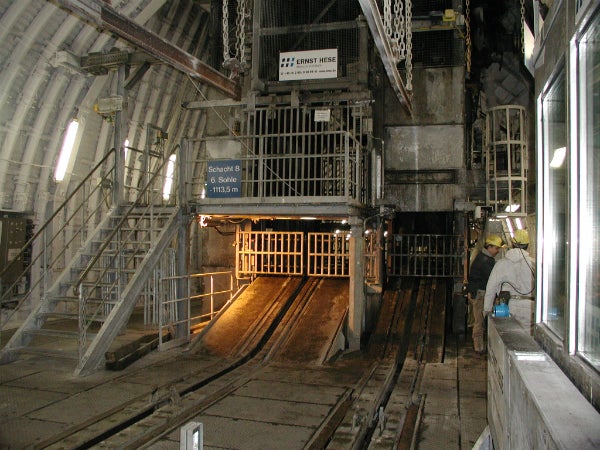 Voith supplies complete solutions for efficient shaft hoisting and optimum flow of material. All our systems are adapted to the individual requirements of the mine.
The Voith TurboHoist Retractable Guide Rail is used for guiding conveyor cages safely in mine shafts. Our solution has special features regarding the passage of floor levels. It involves a specially designed tensioning technology and replaces the conventional guiding around corners that can only be passed very slowly.
These characteristics in combination with high material quality make our product a safe application, perfectly suitable for mining. It can carry out floor level passages with conveyor cage speed of up to 16m/sec. In mine shafts with intermediate floor levels, efficiency rises due to saved time. Higher conveying capacity of up to 5% per floor level passage can be achieved.
The Voith portfolio for belt conveyors also includes:
Voith TurboHoist Hopper Discharger
Voith TurboHoist Decking Devices
Voith TurboHoist Skip Charger
Voith Fluid Couplings and Drive Solutions
Voith Turbo provides fluid coupling and drive solutions for the efficient and reliable operation of...