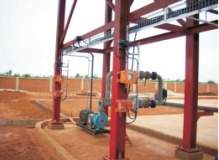 PPE Technologies product sales and marketing division offers skilled product consultants and several high-quality product brand portfolios to continually offer reliable solutions with great after-sales service support.
This business unit complements the project and installations division's reliable after-project product service and support, ensuring that purchases and warranty issues are handled from a single service entry point.
PPE offers standalone (brown box) product sales or complete turnkey solutions, with the support from its engineering and installation divisions.
Electrical and Instrumentation Installation
PPE's installation services department provides a comprehensive on-site construction and installation solution, from small retrofits and modifications to existing installations, to entirely new plants.
Its installation teams operate in heavy industrial environments working for corporate groups.
Through clearly defining the scope of services required and having the implementation strategy for each installation, the company ensures that the site teams and their supporting managers are focused on the same mission for every undertaking.
PPE focuses on planning, leading, organising and controlling site works and ensuring that key performance is clearly mapped to achieve end user satisfaction.