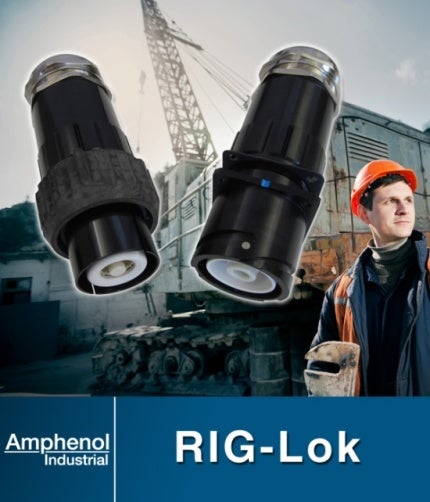 Amphenol Industrial Products Group (AIPG), which has been manufacturing connectors for more than 80 years, offers an extensive array of connector lines including rectangular, circular, fiber optic, EMI / EMP filter and a variety of special application connectors.
With the introduction of its patented RADSOK technology, Amphenol revolutionised the connector industry. RADSOK'S twisted grid configuration allows for 50% more current to pass through the same size pin, while providing increased reliability, ampacity and cycle durability as well as lower insertion force, T-rise and voltage drop.
Features and benefits
Ruggedised over-molded coupling nut
Wire gages 4/0 AWG through 777 MCM
Utilises patented Radsok technology
1/4 turn reverse bayonet
Crimp or busbar termination
Silver plated contacts
Fingerproof
Voltage: 2,500VAC
Component operating temperature: -40˚C to 125˚C
2,000 mating cycles
300-day salt spray rating
Current: tested at 100˚C ambient

800A (110˚C cable)
1135A (125˚C cable)
Amphenol produces interconnectors for mining and heavy industries.The company's range of high-qualtiy products include standard,...