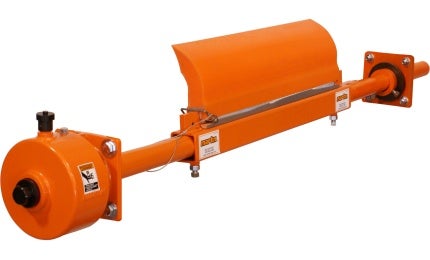 Martin engineering manufacturers the QC1 cleaner; a single, curved, urethane blade for heavy-duty applications. The QC1 cleaner out-performs equivalent belt scrapers in primary belt cleaning.
Martin's QC1 cleaner can be used on belts from 18in to 96in that operate at speeds up to 4.6m per second. It is designed for head pulleys that range in diameter from 18in to 22in.
QC1 cleaner's features include:
One-pin blade replacement to make blade replacement faster and easier with no tools required
Patented constant angle radial pressure design to maintain cleaning performance through the belt cleaner blade's life
Colour-coded urethane blades to ensure the one chosen is most appropriate for the application
Blades that can be segments or slits
Martin Twist™ Tensioner is available
A global leader in bulk material handling solutions provides a family of responsive conveyor belt...