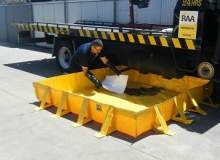 Prenco's bunding solutions offer portable / flexible and fixed options for that 'wall', 'dike' or 'barrier' to contain any fluid. A variety of terminology is used such as:
Portable collapsible bund
Spillbund mat
Spill pallet
Bunded pallet
Floor bund
Spill barrier bund
Tank bund
Drum bund
Bunded tray
Please click on the Bunding and Spill Containment Selector for assistance finding the right bunding solution for your application.
An overview of Prenco's range includes:
Portable collapsible bunds – 300mm sided. Set-up wherever a bund is needed to store hazardous materials, service equipment or contain fluids from leaks and failures. Use them as a containment wash bay, just lower any side and drive in. They are built to any required size.
Spill bund containment mat – 100mm sided. Fully bunded, trafficable, portable containment mats that can be used in any conditions to contain liquids, leaks and drips in servicing activities, wash cars, trucks, buses, boats, machinery or parts. Temporary store drums and equipment.
Floor bunding. Create a bunded area with permanent 'drive-over' floor bunding
Spill barrier bund: pre-glued eva sponge for light-duty applications
Protecta-bund: polyurethane, durable, heavy-duty applications bolt down
Wall bund: higher profile for increased capacity and along perimeter walls
Spill pallets and bunds. Secondary containment products made from polyethylene and designed for bunding drums, tanks, equipment and any item that requires compliance with EPA and Australian Standards storage and handling of fluids.