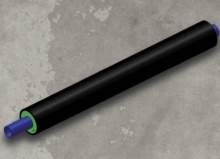 Permapipe's double-walled containment and leak detection piping systems are designed to improve safety and maximise the efficiency of the transport of hazardous goods.
Permapipe's pre-fabricated double wall containment piping systems are manufactured by centralising the carrier pipe within a protective outer casing using a closed cell, CFC-free, rigid polyurethane foam to create a dual containment system for the transport of hazardous liquids.
For additional security, each system also comes with the option of adding a leak detection void to suit a leak detection cable.
Permapipe's ISO:9001 Quality Assured manufacturing system guarantees a quality and consistent product, giving you complete confidence that your project will maintain the highest standards in safety, reliability and durability.
Choose Permapipe's Permacase double wall containment piping systems for optimum performance even in the most demanding applications.