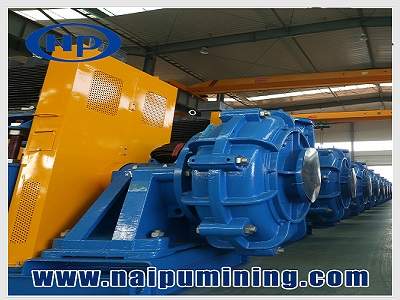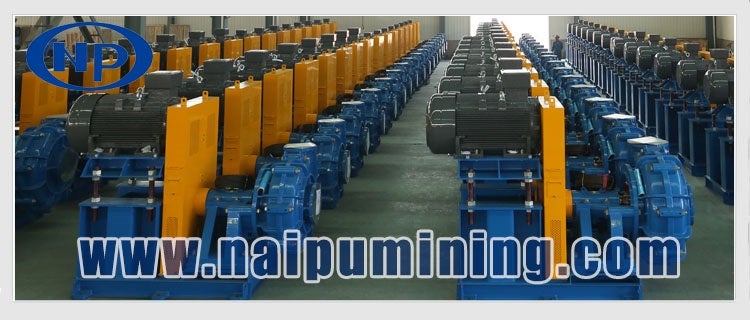 Light-duty slurry pump is a centrifugal pump with cantilever impeller. It is chiefly designed to meet the demand of non-ferrous and black mine mineral processing system. Naipu NZJL series slurry pumps are equivalent to Warman L series pumps.
Solid and durable, centrifugal dredge pump is always the first choice for transporting tail mine slurry, ashes and other slurries in dressing plant, power station, coal washer and metallurgical plant. Naipu offers sand pump, sludge pump, dredge pump and other customized slurry pumps upon your request.
Parameters of design duty points of NZJL Series light-duty slurry pump
Design duty points refer to the rated point designated at the beginning of design of a slurry pump, which is usually the highest efficiency point. Working range is increased by practically adjusting the speed of an NZJL light-duty head slurry pump.
Classification
This series can be applied when the density of slurry is less than 30%. Based on the material of impeller, the pump can be divided into NZJL-R (rubber impeller) and NZJL-M (metal impeller). The method of shaft seal includes packing and expeller seals. The range of discharge size is 200-650mm; flow rate range is 300 m³/h -10,000m³/h and head is 10-68m. The metal wet ends and rubber wet ends can be displaced by each other.Additionally, our slurry pumps are good replacements for Warman slurry pumps, Metso slurry pumps, Goulds slurry pumps, etc.
Comparison with heavy-duty slurry pumps
Comparing with heavy-duty slurry pump, the light-duty pump has higher speed, smaller size and lighter weight. It is applied to transfer fine particle, low-density or corrosive slurry. The weight density of slurry normally is less than 30%. It can be also used to transfer high-density slurry with low abrasion.
Advantages
Light-duty slurry pump employs unique anti-corrosive design and the wetted parts have a long service life
Multistage tandem technology can be used to meet long-distance transportation.
Centrifugal dredge pump has a high-performance cost ratio, easy maintenance, wide performances and high-efficiency
Various types of wetted parts are provided to meet all kinds of working conditions
Rubber front plate of light-duty slurry pump can be used for 205 days, and the service time of rubber impeller is 120 days.
Jiangxi Naipu Corporation gains technological supports form Beijing General Research Institute of Mining and Metallurgy, Eastern China University of Science and Technology, etc.
Light-duty slurry pumps incorporate EDEM discrete finite element analysis software in the design
The flow cross section is enlarged and components structures are optimized.
Centrifugal dredge pump adopts a lot of wear resistant designs to reduce abrasion
High-wear resisting rubber is employed which features high resilience, chemical stability, anti-cavitation, lightweight and easier replacement. Besides, this kind of rubber can absorb noise and vibration, enabling higher erosion resistance
Strict quality tests ensure the quality of the pump
Naipu also offers centrifugal dredge pump selecting service
Customer services
Operation
Security measures are in place to install, operate and maintain light-duty slurry pump
The installation, operation and maintenance of auxiliary devices should also comply with this security measure and other regulations
Maintenance of centrifugal dredge pump
Check and repair shaft seal
Make adjustment of impeller
Make replacements of quick-wear parts to avoid the damage of light-duty slurry pump
Maintain spare pumps
Attention
Naipu chooses appropriate model of light-duty slurry pump on the basis of minerals and slurry.
Packaging and Shipping
Light-duty slurry pump should be packaged in iron cases
Shipped by sea and land transportation
Payment and delivery time
L/C and T/T are accepted
Centrifugal dredge pump will be delivered within 30 to 60 days after receiving down payment
After-sales service
Field installation and maintenance services will not be provided unless the purchase orders of light-duty slurry pumps reach a certain amount.