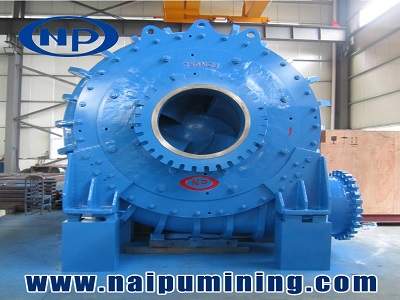 NZJH high-head centrifugal slurry pump is widely used to transport corrosive / abrasive and high-concentration slurries in mining, sand, lead and various other industries, including electric utilities, copper, oil shale, agriculture, etc. Naipu NZJH series slurry pumps are equivalent to Warman HH series pumps.
This rubber-lined sludge pump uses wear-resistant rubber to reduce abrasion and corrosion. The rubber also has small density and is able to reduce noise and vibration. Thus, high-head centrifugal slurry pump is undoubtedly your first choice. Sand, sludge and dredge pumps are available for different applications.
Parameters of design duty points of NZJH Series high-head slurry pump
Design duty points refer to the rated point designated at the beginning of design of a slurry pump, which is usually the highest efficiency point. Working range is increased by adjusting the speed of an NZJH high head slurry pump practically.
Comparison
NZJH series is high-head slurry pump, which is mainly used in long-distance delivery of slurry such as tailings delivery. Seeing as the rubber wet ends are limited to line speed, the wet parts of NZJH series use metal material. The range of discharge size is 25-150mm; flow rate range is 5m³-800m³/h and its max head is 100m. Therefore, NZJH slurry pump is more efficient and with a higher head than other slurry pumps. Additionally, our slurry pumps are good replacememts for Warman slurry pumps, Metso slurry pumps, Goulds slurry pumps, etc.
Advantages and technology
High-head centrifugal slurry pump is characterized by wide applications, high efficiency, easy maintenance and high-performance cost ratio.
Wet parts are anti-abrasive, thus they can be used for a long time. In addition, they are made of different materials, suitable for different working conditions.
Rubber-lined sludge pumps use multistage tandem technology, which makes it suitable for long-distance transportation.
Customer Services
Operation and precaution
Centrifugal slurry pump and auxiliary devices should be installed, operated and maintained according to security measure
The exact model of rubber lined slurry pump should be selected basing on the minerals and slurry
Maintenance
As long as installation is right, centrifugal slurry pump will be reliable
Check and repair shaft seal
Make impeller adjustments
Change quick-wear parts
Ensure that bearing is lubricated
Maintain and clean spare rubber lined sludge pumps
Packaging and shipping
Centrifugal slurry pump should be packaged in iron cases
Ocean shipping and land transportation are both available
Payment and delivery time
L/C and T/T are accepted
Rubber-lined slurry pump should be delivered within 30 to 60 days after the receipt of down payment.
After-sales service: on-site installation and maintenance services cannot be offered unless the purchase orders of centrifugal slurry pumps reach a certain amount