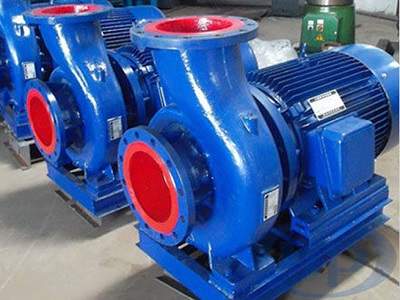 NZJF foam / froth slurry pump is mainly applied to transport foam slurry.
During this process, it can partly remove foams. The transportation capacity of rubber-lined slurry pump is much higher than that of other models. Besides, it does not need shaft seal or seal water. Due to this, our froth slurry pump has become the ideal pump for many concentrating mills and other industrial uses. Naipu NZJF series slurry pumps are equivalent to Warman F series pumps.
Parameters of design duty points of NZJF Series froth slurry pump
Design duty points refer to the rated point designated at the beginning of design of a slurry pump, which is usually the highest efficiency point. Working range is increased by adjusting the speed of an NZJF froth slurry pump practically.
Application
NZJF series is horizontal froth pump which is mainly applied to deliver the slurries with froth such as flotation froth. The impeller is semi-open. To deliver froth slurry, this series use the impeller with huge inlet diameter.
The processing of slurry may generate some suspending froths. The flotation in beneficiation for example, will produce froths. The normal slurry pump is not suitable for delivering slurry with froths. With special structure design, NZJF series can fit the froths very well. It is actually a kind of centrifugal pump. Additionally, our slurry pumps are good replacements for Warman slurry pumps, Metso slurry pumps, Goulds slurry pumps, etc.
Advantages of foam slurry pump
Rubber-lined slurry pump is characterized by high-efficiency, unique anti-wear design, convenient maintenance and repair
Foam slurry pump makes use of multistage tandem to ensure long-distance transportation
The adoption of high-wearproof rubber can lengthen the service life of wetted parts. For example, rubber front plate and impeller can be used respectively for 205 days and 120 days. The rubber has chemical stability, lightweight and high-resilience. It can reduce noise and vibration
NaiPu is able to develop and manufacture products such as foam slurry pump. The company sets up close relationships with Eastern China University of Science and Technology, Nanchang and Changsha Metallurgy Design and Research Institute, and so on
Rubber lined slurry pump employs many designs, such as flow cross-section design, uniform section velocity design, optimized parts structure design, etc. Besides, EDEM discrete finite element analysis software is utilized in the design
The wearing parts of foam slurry pump are designed to reduce abrasion
Rubber lined slurry pump has good performance which is suitable for different requirements of working conditions
Operators and quality inspectors make several quality tests to guarantee pump quality
The company also provides foam slurry pump selection service
Operation and maintenance
Operation of rubber-lined slurry pump:
Users should abide by regulated security measure to install, operate, and maintain foam slurry pump and auxiliary devices, such as motor, belt transmission device, coupling, high-speed box and stepless speed change device.
Maintenance of rubber-lined slurry pump:
Make replacements of quick-wear parts
Ensure that the bearing is lubricated frequently
Make sure that impeller of foam slurry pump is adjusted
Check and repair shaft seal
Maintain spare pumps
Customer services
Attention: according to different slurries and minerals, select appropriate foam slurry pumps and wet parts
Packaging and shipping: foam slurry pump should be packaged in iron cases. Ocean shipping and land transportation are accepted
Payment and delivery time: L/C and T/T are accepted. Horizontal slurry pump should be delivered within 30 to 60 days after receiving down payment
After-sales service: field installation and maintenance cannot be offered unless the purchase orders of foam slurry pumps reach a certain amount