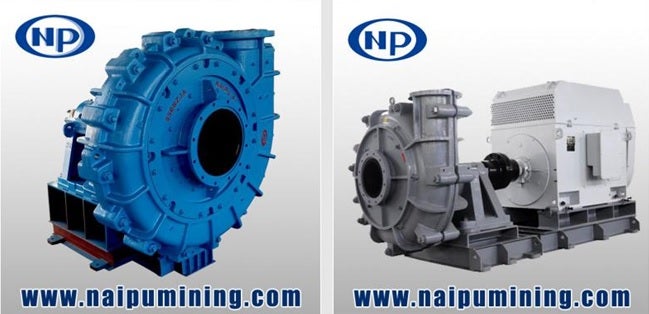 NZJA Series slurry pump is horizontal heavy-duty slurry pump, which can be used in ultra-heavy duty applications from cyclone feed to flotation, regrinding and tailings. Naipu slurry pump can be used widely in iron ore beneficiation, copper concentration, gold ore dressing, potash fertilizer etc. Naipu NZJA series slurry pumps are equivalent to Warman AH/MCR pumps, and Naipu can supply replacements for wet ends on Warman AH/MCR pumps.
750NZJA slurry pumps independently developed by Naipu are the first in China, and are a world class product. With a flowrate of 15,000m³/h, these are the largest pump in mining industry, installed at Erdenet Cu&Mo mine in Mongolia for tailings transfer. 550/450NZJA slurry pumps are installed in Jiangxi Copper, China Gold and EMC in Mongolia.
Parameters of design duty points of NZJA Series slurry pump
Design duty points refer to the rated point designated at the beginning of design of a slurry pump, which is usually the highest efficiency point. Working range is increased by adjusting the speed of NZJA slurry pumps practically.
Naipu 750NZJA slurry pump models
Slurry pump models: A – heavy-duty; V – vertical double-suction; F – froth; L – light-duty; H – high head
750 HV – NZJ A- FPS-MR
750: diameter of pump discharge (mm)
HV: mode of frame
NZJ: slurry pump made by Naipu Company
A: slurry pump type
FPS: code of shaft seal
MR: code of wet ends material
Slurry pumps classification
The slurry pump can be divided into NZJA-R (rubber impeller) and NZJA-M (metal impeller) based on the material of impeller. The method of shaft seal includes packing and expeller seals. The range of flow rate is 5m³-15,000m³/h and head range is 5m-90m.
Slurry pump use
Naipu slurry pumps are suitable for transferring high-abrasive slurries containing solid particles. Our slurry pumps are widely used in industries, including metallurgy, mining, coal, power generation and environmental protection. Additionally, our slurry pumps are good replacements for Warman slurry pumps, Metso slurry pumps, Goulds slurry pumps, etc.
Naipu slurry pump advantages and features
Unique wear-resistant design (structure, material), long service life of wet parts
Wide range of performance, less NPSH, high-operational efficiency, and energy-saving
Optional combination of wet parts of different materials to meet different working conditions
High price/performance ratio, easy maintenance and services
Available for multi-stage installation for long distance transfer
Various installation forms to meet different site installation conditions and customers' requirements
Pump selection service available
Naipu was the first company to perform two-phase flow analysis for slurry pumps and grinding...
Naipu develops a variety of products, covering the mineral processing flows in non-ferrous metals, and...