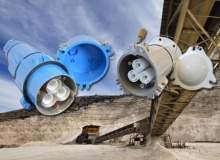 Amphenol Industrial Operations (AIO) offers many products and solutions for the mining market. A hazardous industry by its very nature, mine sites must rely heavily on electrical equipment. The safe and reliable transfer of electricity throughout a site is a significant concern.
When looking for the best interconnect for the job, AIGO's MVC 600V, 8KV, or 15KV cable couplers with 'Rapid-Couple' technology will not leave you guessing. The MVC incorporates patented RADSOK® contact technology for higher amperages (20% to 25% greater than a standard contact), lower T-rises, less resistance and reduced mating forces.
Engineered to Amphenol's high standards for ruggedness and reliability there is no field condition in the world that can impede the MVC. The Rapid-Couple interlock method makes for a coupler with a quick and easy mating / unmating system. This provides for positive mating and secure fitting covers that repel water and soil while keeping the contacts uncontaminated. The MVC coupler has been remarkably designed with a wide range of features and benefits that makes this the coupler of choice for the mining industry.
Features and benefits
Up to 15KV / 600 amps
Aluminum housing
Incorporates patented RADSOK® contact technology leading to 20% to 25% more current in the same size contact, while reducing mating forces
Rapid-Couple mating technology
Fire retardant insulators
Coupler mating is a one person operation without the need for expensive tools or closing mechanisms
All parts are replaceable and can be serviced easily in the field, equaling less downtime for repairs