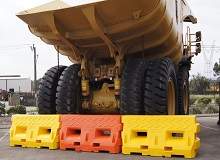 Safescape Multi-Bund has been designed as a modular, lightweight bunding product. It acts as versatile bunding for mining applications.
It can be used empty for delineation of pedestrian access areas around heavy equipment, filled with water, concrete or other materials for heavy-duty applications requiring protection from vehicle interaction.
The Multi-Bund has six bolt-down points for anchors up to 45mm in diameter, giving edge protection from trucks and loaders. In this type of application, the Multi-Bund acts as concrete formwork, creating an appropriate shape where the quality of the cemented fill determines the strength of the finished bund.