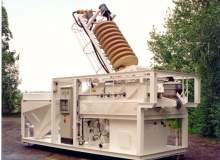 Mobile residue processing plant MoReSa 4.0
MoReSa 4.0 is a mobile residue processing plant for the separation of organic and light-weight components, especially from residues as they occur in the municipal sector. Individual system designs and versions can be provided, depending on customers individual requirements. MoReSa 4.0 may be upgraded by applying additional modules for the treatment of road sweepings, also with leaves and branches and for the treatment of grit from sweeping oversize particle. Process water recirculation is possible with a waste water module.
Principle of operation
For this field of application AKW Apparate + Verfahren GmbH uses the spiral separation method AKA-SPIN.
Highly mobile residue processing plant MoReSa 10.0
MoReSa 10.0 is a highly mobile processing plant mounted on two semitrailers to recover recyclable mineral fractions (sand, grit) based on wet-mechanical separation processes.
Principle of operation
Innovative process technology in a highly mobile plant concept with water processing equipment for recirculation.