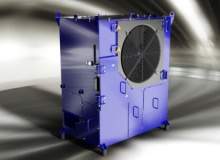 Specialist Mechanical Engineers' MK950 air-conditioner is designed for mining and heavy industries.
The series of air-conditioners cool industrial enclosures and provide atmospheric protection against gas, dust particles and water.
SME's panel coolers enable mine staff to work is comfortable environments with clean air. They also regulate the temperature of electrical equipment such as switch gears, PLCs and variable speed motors drives.
MK950 panel coolers excel in extremely high-temperature and ambient conditions.
They are equipped with a filtration system for harmful chemical vapours, which can process nearly all known harmful gasses, including tear gas, fluorides and sulphides. Removing abrasive and corrosive vapours also protecting the service life of equipment and well-being of staff.
The MK950 series is suitable for hot factory environments and workplaces with high dust and chemical loads.
Features of the MK950 panel cooler range includes:
Double-insulated
Stainless steel enclosure with epoxy finish
Ruggedised, advanced PLC controller
Fan speed control
Voltage fault protection against phase loss, phase rotation, voltage drop/dip,
voltage spike protection, black-out and brown-out protection
CANBUS industrial network interface
Adjustable enclosure air temperature
Optional water atomiser to disperse condensate