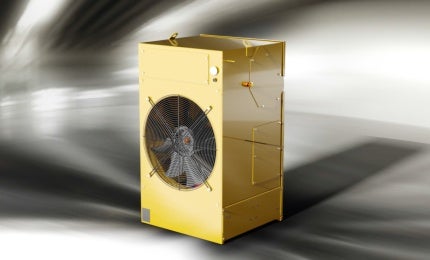 SME offers clients the MK450 air-conditioner to cool industrial enclosures in very high-temperature environments.
MicroKool panel coolers are designed to operate in highly ambient conditions of up to 65°C, are ruggedised for industrial applications and easy to maintain.
The MK450 panel cooler is suitable for high temperature factory environments, cooling switch gears, PLCs, variable speed motor drives, electronics and human operators.
MK450 air-conditioners are versatile, can be customised to suit client requirements for virtually any application and allow users to set the enclosure temperature to any value. Optional extras include an over-pressure dust and chemical filtration system, and a water atomiser to safely disperse condensate.
All spare parts are readily available.
The MK450 includes the following features:
Electrical input 400V ±20%, 50 Hz
Double-insulated
No earth or neutral connection required
An advanced PLC controller
Atmospheric protection against gas, dust particles and water exceeds
Low refrigerant detection, HP/LP protection and anti-ice protection
Voltage fault protection to protect against phase loss, phase rotation, voltage drop / dip
Voltage spike protection
Black-out protection and brown-out protection
Communication via Bluetooth to smart phones
Remote on/off switching of the aircon
This extended case study describes a cost and schedule risk analysis for a multi-billion dollar...