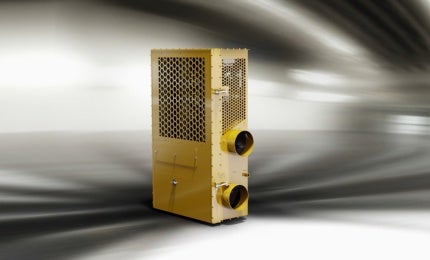 Specialist Mechanical Engineers supplies a range of air-conditioning panel coolers, such as the compact and lightweight MK150.
MK150 air-conditioners provide reliable cooling for industrial sites with extremely high-temperature environments. The units provide atmospheric protection against gas, dust particles and water. They are rugged to withstand adverse conditions and are constructed from stainless steel.
Typical applications of the MK150 include high-temperature factory environments, and to cool switch gears, PLCs, variable speed motor drives and electronics.
The MicroKool series of panel coolers is ideal for use in ambient temperatures up to 65°C. The MK150 model enables users to set the enclosure temperature, it is easy to maintain and all spare parts are readily available.
Key features of the MK150 panel cooler include:
Electrical input 400V ±20%, 50Hz.
Double-insulated
No earth or neutral connection required
Cools all interior electronic components
Low refrigerant detection, HP/LP protection and anti-ice protection
Remote on/off switch
A water atomiser to disperse the condensate, as an optional extra
This extended case study describes a cost and schedule risk analysis for a multi-billion dollar...