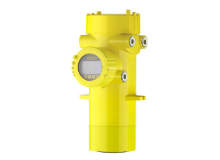 Unaffected by process pressure, temperature, or corrosive properties, radiation-based products, such as the MiniTrac 31 from VEGA Americas, are highly accurate and reliable, even in the most challenging environments.
The MiniTrac 31 measures the density, or mass per unit volume, of solids, liquids, and slurries contained in pipes or process vessels. The product's non-contact measurement principle is unaffected by product viscosity or other properties, making it the perfect instrument for use with dense and difficult media. The detector is suitable for use on pipelines and vessels with a diameter from 2in (50mm) up to more than 36in (914mm).
Operators in multiple industries trust the MiniTrac 31 to monitor their processes. Mining facilities, for example, require accurate tracking of percent solids in slurry pipelines to ensure that processes are running at their optimum capacity. The MiniTrac 31 reliably measures the density of the thickener underflow.
The product is also at work in fossil fuel power plants, where operators have the imperative to track the lime slurry pipeline of a plant's flue gas scrubber system in order to reduce sulfur dioxide emissions. In this application, the MiniTrac 31 monitors the density of the lime slurry in the pipeline to maintain the efficiency of the scrubbing process.
Whether in a mine, power plant, refinery or elsewhere, the MiniTrac 31 is utilized for its compact, lightweight design. Less weight means fewer and less-expensive mounting requirements, and the detector's size makes it easy to install and adjust in applications where space is limited. Another physical advantage of the MiniTrac 31 is a lack of mechanical parts that need time-consuming and costly maintenance, repair, and upkeep. Users can practically set it and forget it.
For density measurement of difficult liquids, there's no better option than the MiniTrac 31 The radiation-based detector is low-maintenance, reliable, and accurate, even in challenging environments.
MiniTrac 31 featured benefits:
Reduced maintenance costs due to non-contact measurement
Installation and removal without expensive process shutdown
High accuracy
Compact size is ideal for retrofitting and difficult placements
Unaffected by environmental and process conditions
Long service life