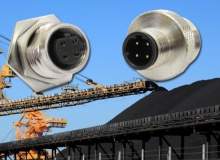 Amphenol Industrial Operations introduces its ruggedised M12 high-speed data connector, the Max-M12.
High-speed data transmission connection systems have traditionally been implemented into commercial applications with little regard to high vibration, high temperature and overall harsh environment demands. With the increased implementation of these high-speed Datalink connection systems into more heavy-duty / harsh environment surroundings, the need for a more robust and ruggedised connection system has surfaced.
Based on the IEC 61076-2-101 and SAE J 2839 standards, the Max-M12 connection system makes it the perfect solution for the ultra-rugged applications that sometimes exist in markets dealing with heavy equipment, rail and mass transit, process control, factory automation, etc.
Features and benefits
Two versions are available: HDM 12° to 90° right angle and straight connector offerings
444N (100LBF) pull force on cable: HDM 12 EX – additional metal shell to protect against extreme impact / force
1,332N (300LBF) pull force on cable
Four-way and five-way circuit patterns available for each version: A, B, D and P polarity codes based on IEC 61076-2-101
Available as stand-alone connectors and cable assemblies (standard and over-molded)
Terminals capable of being terminated to: 0.8mm2 (18AWG) or 0.5mm2 (20AWG) conductors as defined by SAE J1128 and 0.75mm2 and 0.50mm2 conductors as defined by ISO 6722
Backward compatible with IEC 61076-2-101 (M12)
More resistant to terminal damage
Extreme environmental testing based on J 2839 requirements: high pressure wash down