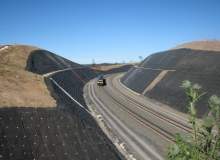 Maccaferri MacMat® is a multi-function geomat that is installed onto surfaces vulnerable to erosion.
MacMat has been engineered to immediately increase the soil's resistance to erosion and provides an environment that encourages the re-vegetation of the soil slopes.
MacMat is a multi-function geomat used throughout operating mines for erosion protection, surface stabilisation and hydraulic erosion control.
It is used during mine rehabilitation works when re-graded and top-soiled slopes are vulnerable to erosion. MacMat not only provides a long-term erosion protection system, but also offers root-reinforcement to enhance the re-establishment of vegetation.
MacMat is a 3D matrix of UV-stabilised, non-degradable synthetic fibres, heat-bonded where they cross. For more demanding applications, where greater tensile strength and puncture resistance is required, a reinforced version, Macmat R is available. The 3D synthetic matrix is reinforced by either double-twisted steel woven mesh or polymeric gegorids.
MacMat R is a very popular solution with soil nailed slopes; the soil nails provide the overall slope reinforcement and MacMat R provides surface strengthening and support between the nail heads.