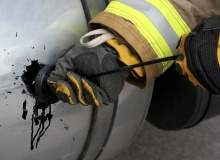 An essential item for any mining and industrial site that stores and transports fluids and has plant and machinery with fuel / hydraulic tanks is a leak sealant putty or plug.
For immediate response to seal / plug a ruptured or leaking tank or drum, Prenco's range of emergency leak sealants will help to avoid losing the entire contents of the tank, reducing the amount of pollution and large clean-up costs.
Plug 'n' Dike emergency leak sealant putty
Plug 'n' Dike is ready mixed non-toxic / flammable bentonite putty that is ready to use straight from the tub or bucket. Plug 'n' Dike seals off fuels, solvents and many other chemicals.
The putty seals immediately and sticks to dirty, crumpled surfaces even when the fluid is flowing out, so no surface preparation is required. Plug 'n' Dike is not a permanent seal and will crack and dry out after a while, but it temporarily holds between 1m to 2m of head pressure.
Plug 'n' Dike sealant putty is used by emergency services and transport industry businesses all over the world to:
Punctured drums
Leaking pipelines
Vehicle accidents
Damaged fuel tankers
Rupture Seal plugging device
Rupture Seal is a handheld device that is inserted into the rupture to seal the leak in seconds. The locking pin and silicone ball device is available in multiple sizes.
The seal is designed specifically to stop leaks in fuel or chemical tanks, as well as a tank inside a vessel that accidentally ruptures.
Rupture Seal™ will protect the environment and your bottom line.