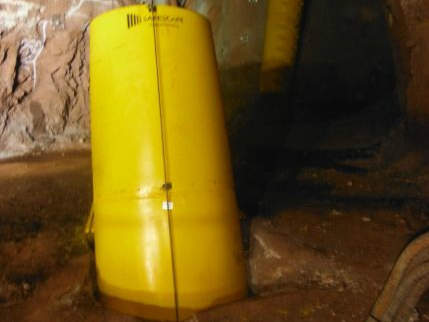 Laddertube is a fully enclosed, durable polyethylene product that is not impacted by water, salt or other mineral deposits.
The system fits comfortably within a 1m raisebore to provide optimal user safety, and also requires minimal upkeep.
The escape route is simply and efficiently installed to any practical length, and represents great value for money for underground mines.
Safe and enclosed mine escapeway ladder, the product is lightweight and will not corrode over time. The modular design allows for installation of any length at angles between 60° and vertical.
In the advancement of underground mining escapeways, Safescape Laddertube represents a revolutionary concept in design.
The system's enclosed travelway prevents dirt, rocks, and saltwater ingress, and doesn't corrode or degrade over time, providing the user with a dependable security.
Laddertube is quick to manufacture and install, requiring a small excavation size.
Benefits of the system include:
Ability to fill the annulus between Laddertube and the excavation
A bright colour
Ergonomic design to make climbing easier than a rung ladder
Fall arrest system included in all installations
Complies with WA Mines Safety and Inspection Regulations 1995, the design and testing criteria of AS1657 and MSHA requirements
Flexible enough to suit a vast range of applications
Minimal maintenance required
Emergency response and mine rescue system
Safescape's Laddertube was designed specifically for mine rescue operations.
It is a straight-line ladder system with landing gate style platforms. The design allows for a rapid stretcher extraction and has a built-in fall arrest static line.
Climbing with breathing apparatus is aided by the smooth interior surface, and the design of the steps also allows the climber to use their lower leg muscles, reducing foot fatigue. This presents a significant benefit over rung-style ladders.