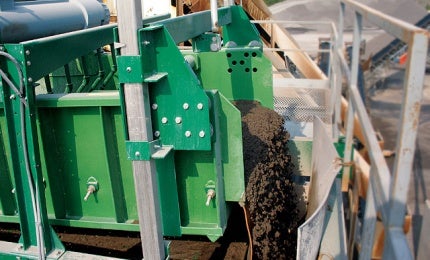 The HI-CAP dewatering machine is the largest member of the Derrick® dual-motor linear motion machine line.
The machine is nominally 5ft-wide by 14ft-long, and offers 62ft² of screen surface. It is designed to utilise Derrick high open-area Polyweb® urethane screen panels with openings from 6.2mm to 500µm. The Polyweb urethane panels are long-lasting, anti-blinding surfaces that outperform traditional wire screen panels.
Two Derrick 5-HP W-Series Vibrators provide acceleration force of over 5 G that result in increased dryness of the discharging solids. The Derrick W-Series vibrators provide dependable service with minimal energy consumption. Derrick's 100% solids urethane coating is applied to the vibrating screen frame to provide a rugged machine capable of withstanding highly abrasive environments.
HI-CAP dewatering machines are installed at numerous aggregate plants in North America to produce concrete sand, asphalt sand and mason sand. They are typically installed to dewater large diameter hydrocyclone underflow, screw classifier product and tank classifier cell feed. Dewatered sand products in these applications have achieved dryness between 10% and 15% moisture.
HI-CAP dewatering machines can also be utilized in high volumetric feed rate scalping operations. Several industrial and frac sand plants have installed HI-CAP dewatering machines to make between 1mm and 2mm scalp separations at feed rates exceeding 1,500gpm.
The Derrick HI-CAP dewatering machine, with its high G-force linear motion and Derrick Polyweb urethane screen panels, is a versatile and economic dewatering solution.