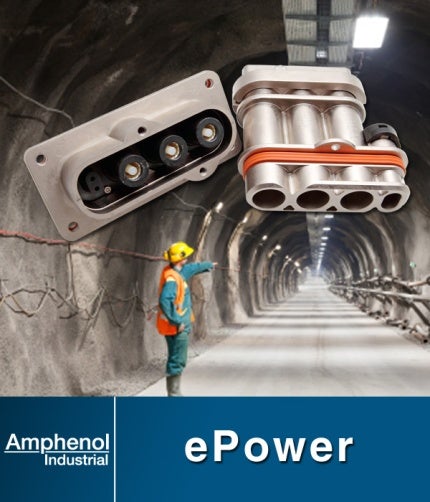 The ePower series of connectors is designed for the demanding requirements of hybrid, electric vehicles and utility truck electrical systems operating at 800vdc to 1,000vdc with a 200A to 500A rating.
The product incorporates the patented RADSOK® technology for higher amperage, lower T-rise, less resistance and mating force. Meantime, it offers a 40% smaller footprint than three EMI shielding cable glands and easier operation of termination with shielded cable by a washer compressing the shield to the inside surface of the shell. The connector series covers two or three power contacts. As an example, one ePower 400A connector can replace three conventional connectors, saving space and cost.
Features and benefits
Two or three circuit power
Crimp, lug or busbar termination
IP2X on pin and socket
Environmental IP67 rating
Two HVIL circuits
1,000vdc rating
11.1mm RADSOK® technology for 200 to 500A current capability
Strain relief for jacketed cable incorporated into shell
Integrated EMI shielding
Excellent vibration resistance
All aluminum shell
Multiple wire size capability: from 50mm² to 95mm²
Amphenol produces interconnectors for mining and heavy industries.The company's range of high-qualtiy products include standard,...