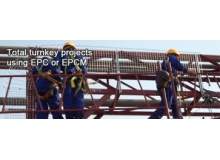 Construction contracting trends have been leaning towards the EPCM style of contracting and away from the EPC contracting for several reasons, but both have their place in business today.
PPE Technologies' engineering, procurement and construction (EPC) services include:
One-stop shopping (one point of contact)
Hands-off approach to project
Minimal staffing requirements
Minimal legal risk, best for well-defined projects
Detailed engineering before contractor selected
Engineering, procurement and construction management (EPCM) services include:
Lower overall costs
Staff's sense of ownership
More control over process
Better for less defined projects
Normally anticipated changes to scope of supply
Less legal litigation
Issues identified early
Situation resolved before it becomes a larger problem
Owners financing flexibility
Power quality management
PPE Technologies, in conjunction with NRS 048 and ISO 50000, has in-house experience and expertise related to electrical energy management techniques and various facets of power quality management, including the design, installation and commissioning of voltage dip proofing systems for variable speed drives, process logic controllers and DCS systems and power plant auxiliary equipment.
This includes voltage quality measurement and reporting systems, power factor capacitor and filter bank design, control, installation and commissioning.
ABB variable speed drives
PPE Technologies is an ABB gold-level authorised value provider and stocks the largest number of ABB variable speed drives in Southern Africa.
PPE Technologies is a certified ABB drives support center offering, engineering solutions, installation and commissioning services and is an accredited ABB drives service and repair centre.
The company offers the following range of ABB variable speed drives:
ACS355: general machinery micro drives for applications from 0.37kW to 22kW, 200VAC to 480VAC
ACS550: standard drives for applications from 1.1kw to 160kW, 380VAC to 600VAC
ACS800: industrial drives for applications from 1.1kW to 5,600kW, 380VAC to 690VAC
ACS880: industrial drives, new generation, 0.55kW to 5,600kW, 380 VAC to 690VAC