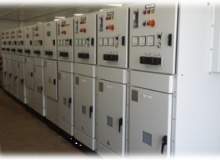 Energy Efficiency Services
PPE Technologies is a registered energy services company (ESCO) and is on the Eskom demand side management (DSM) database. As such, the company provides energy efficiency assessments and solutions and supports customers with obtaining Eskom DSM funding for their energy efficiency projects.
This includes increasing the electrical energy efficiency of plant and equipment, shifting production demand outside the Eskom Peak demand period and assisting customers with reducing their electrical power costs.
Power Distribution Load Centres, Motor Control Centres and MV/LV Control System Solutions
PPE Technologies panel fitment centre is geared for power distribution equipment up to 4,000A.
The company's service is geared to the manufacture of electrical, control and instrumentation control panels and enclosure to customer requirement.
This includes on-site panel modifications achieved with the use of a portable bus bar press system in skilled and experienced hands.
MV Flex Switch Boards
PPE Technologies manufactures medium-voltage switch boards, branded MV Flex for motor starters, isolators and distribution boards.
Voltage range 3.3kV to 22kV
Short delivery lead time 14 to 18 weeks
Flexible, compact design
Fitted with ABB VD4 circuit breakers, ABB V type vacuum contactors or NALF isolators integrated internal ARC detection for high-speed Protection and high-level of operator safety
ARC venting and ducting
Fitted with a range of ABB protection relays and others if required
Control and Automation
PPE Technologies has in-house experience and expertise with the design, programme development and installation of a wide range of PLC systems, from the small stand-alone PLC to the large distributed I/O-based plant management system.
This includes PLC system infrastructure, system development and programming; inter processor communication systems, specialised plant interlocking and SCADA system development and commissioning.