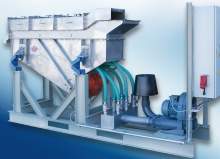 AKA-FLOW is a dry working gravimetric sorting device and used for preliminary separation and enrichment of materials of different densities as a possible pre-stage to the wet mechanical separation processes. Limited availability of water in arid areas and environmental restrictions in the water supply and disposal of sludge require alternatives and additions to the wet-mechanical processing technologies. Dry gravity separation for eco-friendly mining.
Principle of operation
The functionality of AKA-FLOW is based on a combination of an air fluidised bed with a specially developed sifter. Studies with different raw materials have shown outstanding performance both in terms of throughput, as well as classifying. The optimum grain size ranges from 0.15mm to 3mm. Throughput ranges, depending on the material, between 3t/h to 6t/h and 9t/h to 18t/h with units of 400mm and 1,200mm width.