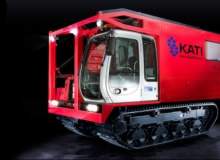 KATI offers drilling services that cover the needs of our broad spectrum of clients from mining and exploration to construction and ground monitoring. The company develops its own CE marked and approved drill machines for top-quality performance and results when drilling underground or from surface, shallow, deep or directional boreholes.
KATI drill units can reach depths of more than 2,000m, producing sample sizes with diameters of 30mm – 80mm. In difficult, soft or weathered rock, conditions sampling can be enhanced using specific polymers or drilling additives designed for those circumstances. An additional option is using a triple-tube coring system that is available in different dimensions.
Decades of experience in drilling applications worldwide have given KATI in-depth knowledge of how to work effectively in the most sensitive and adverse environments. The patented closed-cycle system enables us to perform the task with a minimal water consumption and to collect drill cuttings and remove from site. This feature has become an important option especially in sensitive or protected areas.
KATI delivers core drilling solutions through technologies that are robust but also adaptable, to continue working in ever changing site conditions. Responsibility for the customer's project and the environment, health & safety, profitability and continuous development are the basic values important to us. The company works with optimum efficiency, occupational safety and environmental friendliness in all drilling projects.