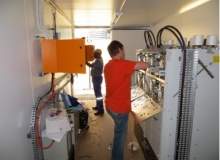 Containerised, compact substations are designed in accordance with IEC/EN 61330 standard for high-voltage / low-voltage prefabricated substations.
Features
Heavy-duty and compact substation
Containerised substation for hazardous areas
Low-voltage motor control centre
Low-voltage power centre
Complete automation system
Medium-voltage heavy-duty substation for outdoor installation is a free standing, containerised unit, specifically designed for site electrification. It is completely self-contained and easily movable.
Features
Forced ventilation (transformer room)
Air-conditioned (MV and LV room) ISO 830: freight containers-terminology
ISO 668: series one freight containers-classification, external dimensions and ratings
ISO 1496-1: series one freight containers-specification and testing
ISO 3874: series one freight containers handling and securing
IEC/EN 60529: specification for degrees of protection provided by enclosures (IP code)
Compliance to other applicable Standards and European Council Directives will be indicated in the Declaration of Conformity draft in accordance to EN 45014 "General criteria for suppliers declaration of conformity" compliant with the requirements of EN ISO 9001:2008
SHERQ services accredited with design
ISO 9001:2008 quality management systems – requirements
ISO 10005 quality plans
Comply with all applicable statutory and regulatory laws and requirements
ISO 31000:2009 risk management
OHSAS 18001:2007 occupation health and safety
Mine Health and Safety Act 29 of 1996
UL 96 A lightening protection services
South African constitution
Supplier code of conduct
Electrical Installation and Fitment, On-Site Maintenance and Turnkey Project Services
PPE Technologies has several business divisions, including an engineering department for electrical and instrumentation design and commissioning services, an installation services department for on-site maintenance works and installation works, a project department for providing turnkey project services on an EPC and EPCM basis, and an electrical fitment shop facility providing motor control centres, MV and LV switchgear, power distribution boards, PLC and DCS panels, drive cabinets and a wide range of electrical and instrumentation solutions.