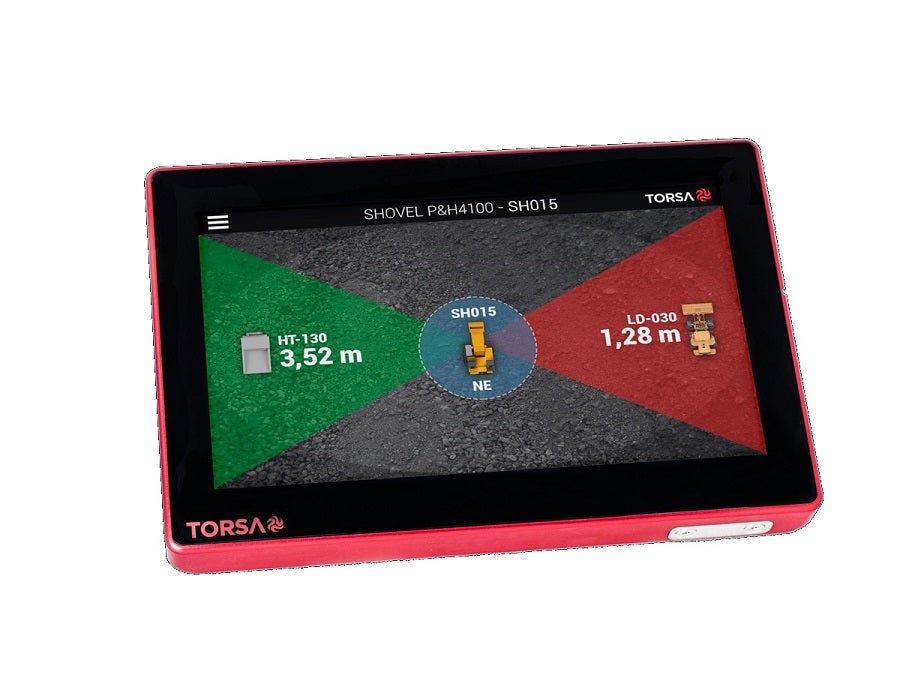 TORSA has a High Precision Collision Avoidance System for Shovels based on LIDAR 3D technology. This system analyzes the interaction between vehicles and the shovel itself with 01 cm of precision, guaranteeing safety in the loading operation.
The objective of the system is to inform the operator of the machinery about the type, position and distance of the different vehicles and obstacles around the shovel.
Through a simple interface, the shovel operator is informed of all the vehicles and obstacles in close proximity, in a non-invasive way, using acoustic and visual alerts, only when there is a real risk of collision, making the system an effective tool for risk reduction in loading operations.
Thanks to the centimetre precision of the system, the operator is informed about the suitability of the loading distance or if there is a risk of collision. In this way, the system dramatically reduces the risk of shovel interactions with bulldozers, trucks, and the mining front.
Like all TORSA solutions, the high precision collision avoidance system for shovels is integrated into the TORSA Cloud environment, thus ensuring the correct interaction, operation and technical information management for all our clients.
Integrated technologies
The system has been equipped with the latest technologies to guarantee effective protection:
LIDAR 3D
GPS high precision (RTK)
Time of Flight (TOF)
Radiofrequency (V2V)
Network communications
TORSA collaborates actively with the International Council on Mining & Metals (ICMM) where the company is involved in the Innovation for Cleaner Safer Vehicles (ICSV) program, which brings together 27 of the world's leading mining companies and technologies suppliers to collaborate in a non-competitive space in order to accelerate the development of a new generation of mining vehicles.
Our system is designed to perform at Control Levels 7, 8 and 9 according to the safety requirements based on the ICSV program by ICMM following the EMESRT (The Earth Moving Equipment Safety Round Table).
Awards and distinctions received by the system
Recently, the National Society of Mining, Petroleum and Energy of Peru awarded the technological innovation award to TORSA and the Compañía Minera Antamina for the custom development carried out with the high precision collision avoidance system for shovels. The success of the system is due to the drastic reduction of events between vehicles, increased safety in loading operations and the increase in productivity experienced.
Technical features
High precision detection (01 cm) and adjustable range according to needs
Non-dependent operation of a single technology
Generation of customized reports and statistics
Assessment tool for mine training area
Remote real-time monitoring of systems in operation
Continuous recording and internal storage of data collected and analyzed by the system.
Reduced number of necessary elements and quick installation
Torsa Cloud web interface allowing efficient and simple information management.
Performs at Control Levels 7, 8 and 9 according to the safety requirements based on the ICSV program by ICMM following the EMESRT