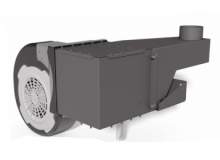 Clean air booster
SME supplies a high-velocity clean air booster to cool and ventilate electronic enclosures. The cyclone version of the air booster provides fresh, dust-free air for the comfort of workers.
The unit's brushless motor is classified as S1 continuous duty operation and is maintenance-free. It has its own power that can be adapted to suit any electrical supply.
Air passes through the unit's two-part filter; a primary cyclone to dispel 95% of dust particles, and the secondary trapping the remaining 5%.
Venturi flow meter
SME offers flow meters made from seamless rolled stainless steel welded sections. They are suitable for handling the flow of incompressible fluids at high flow rates, as well as increased accuracy at low flow rates.
SME's Venturi flow meters are ideal for mining industry applications, as well as cooling and heating plants, cooling towers, water purification plants and distribution networks.
They have no moving parts to obstruct matter flow and have shut-off valves for easy maintenance.
They are designed according to standards set in EN ISO 517.
---
Image: Clean air booster (left) venturi flow meter (right).