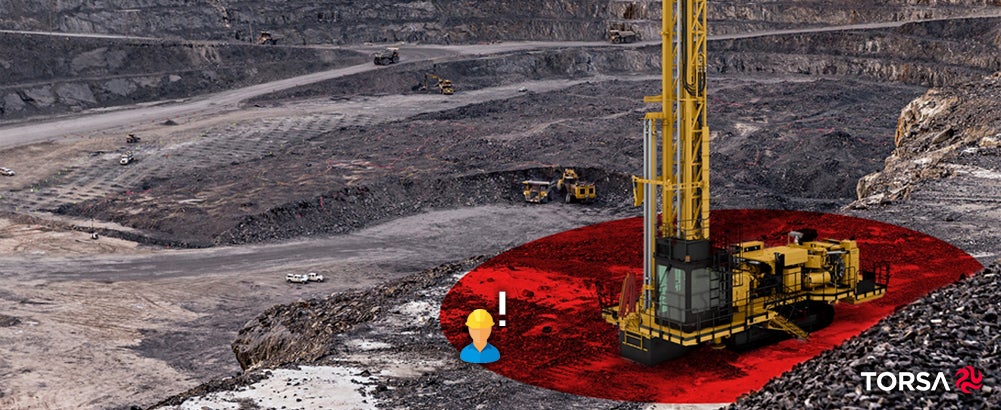 TORSA's High Precision Collision Avoidance System for Drills and Rigs identifies in real time any obstacle that may be considered a risk amid operations during drilling tasks in mining operations.
In order to cover all vehicular interactions and protect all existing vehicles in open pit mining operations, TORSA has developed a High Precision Collision Avoidance System for Drillers.
The system has been conceived to identify any object (mining equipment, rocks, personnel, etc.) that could cause a hazardous situation in the driller's operating area.
In addition, the system has a powerful communications interface that allows monitoring its safety remotely while operating the rig remotely and autonomously.
In the same way as in the case of the protection of heavy vehicles (shovels, trucks, auxiliaries, etc.), in this system, the 3D LIDAR has been implemented as the main detection technology.
By positioning four sensors on the side rails of the drilling rig, the system is able to detect with centimetre precision the presence of any object that exceeds the safety area previously established by the mine.
This detection area is fully configurable by the customer and can be adjusted according to internally established needs.
All data on detections and activity around the drilling rig is recorded in the black box of the system and is synchronized in real-time through the TORSA Cloud management platform.
Like all TORSA solutions, the high precision collision avoidance system for shovels is integrated into the TORSA Cloud environment, thus ensuring the correct interaction, operation and technical information management for all our clients.
Integrated technologies
The system has been equipped with the latest technologies to guarantee effective protection:
LIDAR 3D
GPS high precision (RTK)
Time of Flight (TOF)
Radiofrequency (V2V)
Network communications
TORSA collaborates actively with the International Council on Mining & Metals (ICMM) where the company is involved in the Innovation for Cleaner Safer Vehicles (ICSV) program, which brings together 27 of the world's leading mining companies and technologies suppliers to collaborate in a non-competitive space in order to accelerate the development of a new generation of mining vehicles.
Our system is designed to perform at Control Levels 7, 8 and 9 according to the safety requirements based on the ICSV program by ICMM following the EMESRT (The Earth Moving Equipment Safety Round Table).